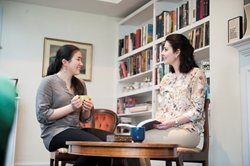 (PRWEB UK) 11 June 2014
New College of the Humanities has launched a Foundation Programme, offering the opportunity to study humanities subjects at university level in preparation for entry to the College as an undergraduate.
Accepting students from September 2014, the Foundation Programme is a full-time one-year course that is tailored to each individual student's educational needs.
According to Professor A C Grayling, "The Foundation Programme mirrors the ethos of our undergraduate curriculum. Those who want a rigorous academic experience see that value for money in higher education means more contact hours, more modules, more support and smaller tutorial groups."
This announcement follows on from an independent survey which revealed that undergraduates at New College of the Humanities are more than twice as satisfied with their academic experience as students at leading UK universities.
The study also found that students at New College of the Humanities who responded enjoy 40 per cent more contact hours, and complete twice as many assignments as their counterparts, putting them amongst the UK's hardest working students. Reassuringly, a whopping 99 per cent of them feel that their tutors are supportive and helpful, compared to 76 per cent at leading UK universities.
Applications for the Foundation Programme can be made on the website, https://www.nchum.org/courses/foundation-programme.
Ends
For further information, please contact:
Desi Lyon
T: +44 (0)2072911385
E: desi.lyon(at)NCHum(dot)org
Notes to editors:
About recent research
New College of the Humanities commissioned YouthSight, an independent youth research agency, to conduct research into the academic experiences of NCH students. The survey was based on annual research YouthSight conduct for HEPI with c14000 students at public universities in the UK. Using the NCH results and data collected on behalf of HEPI, YouthSight were able to directly compare the academic experience of NCH students with students studying Humanities/Social Sciences at Russell Group universities in 2014. HEPI were informed that this research took place.
General:
63 per cent of students at New College of the Humanities say that their university experience has exceeded their expectations. (2014: 28 per cent/ 2013: 32%)
Contact time:
New College of the Humanities students experience an average of 13.8 hours of contact time per week. (2014: 9.85/ 2013: 9.93)
Assignments and feedback:
Students at New College of the Humanities complete 13.7 assignments per term (6.44)
84 per cent of feedback at New College of the Humanities is given in person (2014: 36 per cent/ 2013: 40%)
91 per cent of students at New College of the Humanities claim it is easy to schedule time to discuss work, or discuss work on email, outside of scheduled work hours (2014: 69 per cent/ 2013: 76%)
88 per cent of students at New College of the Humanities state they have sufficient access to academic staff outside timetabled sessions in order to discuss aspects of their work (2014: 71 per cent/ 2013: 73%)
88 per cent of students at New College of the Humanities are satisfied with the amount of timetables sessions (2014: 61%/ 2013: 62%)
About New College of the Humanities
New College of the Humanities (NCH) offers a new model of higher education for the humanities in the UK. NCH students enjoy one of the best staff-to-student ratios in UK higher education and benefit from a high number of quality contact hours including engaging and challenging one-to-one tutorials.
Our professors are international experts in their fields and our full-time academic staff members have been selected for their proven ability in teaching as well as for their research interests.
NCH welcomed its first intake of students in September 2012 and prepares students for undergraduate degrees in: Economics BSc, English BA, History BA, Law LLB, Philosophy BA and Politics & International Relations BSc.
In addition to their 12-module single honours undergraduate degree from the University of London, all NCH students study a further eight modules. These comprise four modules from another degree subject or Art History, Classical Studies or Psychology as a contextual course, and three core modules in Applied Ethics, Logic & Critical Thinking and Science Literacy, plus the College's three-year Professional Programme.
The College is centrally located in Bloomsbury, London's university district and students, as associate members of the University of London, have access to many of the resources of the University of London: the exceptional library in Senate House, the University of London Union, sports facilities, and many other opportunities to enrich themselves through extra-curricular activity.
The College's rolling applications process is independent of UCAS and applications can be made in addition to the five UCAS choices. Visit http://www.NCHum.org or call 020 7637 4550 for all enquiries and applications.