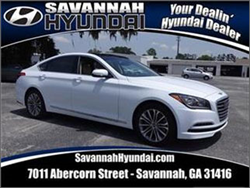 The New Genesis has everything! Autobreaking is just one of the outstanding safety features. -- Mark Medinger, Savannah Hyundai
Savannah, GA (PRWEB) June 12, 2014
Recently, the Insurance Institute for Highway Safety tested vehicles with autobraking technology. Hyundai ranked on top along with BMW and Mercedes. "We are proud to offer our customers a vehicle that the IIHS rates as superior," says Mark Medinger of Savannah Hyundai.
In May, Savannah Hyundai, located at 7011 Abercorn St in Savannah, GA, received its first 2015 Hyundai Genesis in their showroom. "Hyundai is at the forefront of safety technology," says Medinger. "Autobraking technology isn't brand new, but Hyundai has perfected it with the new Genesis."
Autobraking technology has come a long way in the last couple of years. "We know that this technology is helping drivers avoid crashes," David Zuby, IIHS executive vice president and chief research officer, said in a statement. "The advantage of autobrakes is that even in cases where a crash can't be avoided entirely, the system will reduce speed."
According to the IHHS, the number of vehicles equipped with autobraking technology has doubled since 2012. About 40 percent of 2014 vehicles have some type of front collision warning system, but not all of them have automatic braking systems.
"The new 2015 Hyundai Sonata also has safety technology that helps drivers avoid front collisions and blind spot detection," says Medinger.
The IIHS's video on Youtube displays how they conducted the test and how each car with autobraking ranked: basic, moderate, or superior. Four cars earned a perfect score from the IIHS: 2015 Hyundai Genesis, BMW 5 Series, BMS X5 SUV, and Mercedes-Benz E-class.
The 2015 Hyundai Genesis was also featured in the automaker's Super Bowl Ad this last year. The ad presented a dad saving his son just in the nick of time from disaster. The last scene featured the 2015 Hyundai Genesis stopping automatically before hitting another vehicle while both son and dad are distracted by a passerby.
"We are excited to finally have the 2015 Hyundai Genesis for sale on our lot!" says Medinger. "We've been getting calls about the Genesis since the commercial aired." The 2015 Hyundai Genesis also includes blind spot detection, lane change assist technology, and the first ever carbon dioxide detector.
Savannah Hyundai is open seven days a week, serving the Savannah, GA and the surrounding area including Statesboro, Hilton Head, Roncon, Ft. Stewart, and Blufton. On their website, http://www.savannahhyundai.com, service and test drive appointments can be scheduled.