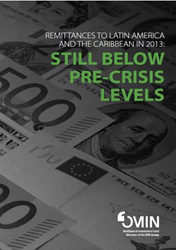 Remittance flows to Latin America and the Caribbean remain an important source of income for millions of poor and vulnerable families, said MIF General Manager Nancy Lee
Washington, DC (PRWEB) June 10, 2014
In 2013, remittances to Central America and the Caribbean increased over the previous year while remittance flows to South America and Mexico declined, resulting in flat growth for the region as a whole, according to a new report from the Multilateral Investment Fund (MIF), a member of the Inter-American Development Bank (IDB) Group.
The report, "Remittances to Latin America and the Caribbean in 2013: Still Below Pre-Crisis Levels," indicates that last year the region received a total of $61.3 billion sent by migrants to their countries of origin.
"Remittance flows to Latin America and the Caribbean remain an important source of income for millions of poor and vulnerable families," said MIF General Manager Nancy Lee. "Remittance recipients need more access to financial tools that will help them use remittances to save and make investments for their future in areas like education, housing, and starting and growing businesses."
More Information
Remittances 2013