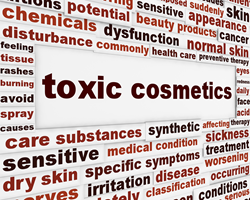 "We wanted to give pregnant women a safe alternative for their cosmetic needs during pregnancy."
Los Angeles, CA (PRWEB) June 12, 2014
Dr. Sachar, a board-certified High Risk Pregnancy Specialist, recognizes that many products that pregnant women are exposed to have ingredients that have been associated with breast cancer, obesity, adult infertility, and neurotoxicity. He is concerned about toxin exposure by the fetus and the damage it can cause later in life. To address this he has created the world's first cosmetic line with makeup that is safe in pregnancy and non toxic. The FDA's role is to protect public health by assuring the safety, effectiveness, and quality of food, drugs, and cosmetics. However, according to Dr. Sachar, their role in cosmetics has been suboptimal. Dr. Sachar reports that lead and endocrine disrupting chemicals (EDC) in cosmetics may be associated with the development of breast cancer in women, prostate cancer in men, attention deficit disorder, hyperactivity in children, non-descended testes in young males, and thyroid cancer (Houlihan, 2005). Endocrine disruptor may be found in many everyday products– including cosmetics, plastic bottles, metal food cans, detergents, flame retardants, food, toys, and pesticides.
"We now know that during pregnancy, exposure of the mother to some chemicals, pollutants, and foods may impact a developing baby and have long-lasting effects on a child's health even into adulthood," reports Dr. V. Sachar. "The best defense is to minimize the mother's exposure to toxins during pregnancy."
Dr. Sachar has addressed this need by creating the world's first cosmetic line for pregnancy. "Our line is free of EDC's, lead and is safe and non-toxic for use in pregnancy. We wanted to ensure the safety of the pregnancy and give women a safe alternative for their cosmetic needs. Interestingly, we have found that almost about 1/3 of our customers are not pregnant, but want to use safe, quality, nontoxic cosmetics."
The new V Sachar MD line, has already received the Baby Maternity 2013, and 2014 Top Choice of the Year Award. The line is available at http://www.VSacharMD.com.