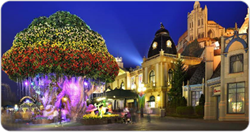 We're excited to install the Christie Solaria CP2230 projector in our Space Tour 4D Theater...
Seoul, South Korea (PRWEB) June 27, 2014
Christie®, the world's dominant brand in the digital cinema projection market, is pleased to announce the installation of a Christie Solaria CP2230 DLP® digital cinema projector for the Space Tour 4D Theater at South Korea's largest theme park, Everland, to provide the best possible visual experience for its visitors.
The installation of the Christie Solaria CP2230 digital cinema projector by Christie and its Korean partner, Eugenetek Corporation, is part of the renewal process for the immensely popular Space Tour 4D Theater, which transports visitors to an exciting virtual world where they experience realistic 3D images, dynamic motion seats, and special effects such as strong winds as they explore the space frontier and enjoy vivid adventures in a totally immersive environment. The upgraded Space Tour 4D Theater officially reopened April 25.
Everland chose Christie for its high quality, reliability that is backed by industry-leading service and support. At over 33,000 lumens, the Christie Solaria CP2230 is suitable for large screen theaters, post-production houses, multi-media theatrical productions, and the most demanding 3D installations. With a unique optics design and superior image processing, it delivers crisp, clean images with perfect color saturation and spectacular video. The Christie Solaria CP2230's ingenious split body design also enables it to be installed on a variety of rack stands and universal pedestals, allowing an easy fit even in the most difficult environments.
"We're excited to install the Christie Solaria CP2230 projector in our Space Tour 4D Theater to offer the highest quality visuals and immersive 4D experience to all our guests," said Hyunjoo Won, Resort Planning & Development, Everland. "I'm also grateful to the team from Christie and Eugenetek for their help, support, and professional teamwork in completing the installation and allowing us to open this attraction on schedule to great enthusiasm and response from our visitors."
Besides the Space Tour 4D Theater, Everland also uses Christie's cutting edge visual solutions for its other attractions. The Pororo 3D Adventure, a fun-filled 3D theater performance starring the adorable TV character, deploys two Christie Solaria CP2230 projectors to display vivid 3D imagery and lively performances, making it a hit with both parents and children alike. Another popular attraction named K-POP Hologram, combines technology and K-POP cultural contents to enable visitors to "meet" their favorite Korean pop stars in an entirely new medium through three-dimensional hologram made possible with two Christie Roadster WU20K-J 3-chip DLP® projectors and five Christie DWU670-E 1-chip DLP® projectors.
Henry Khang, general manager of Christie Korea, commented, "We are very pleased to work with Everland once again on the installation of the Christie Solaria CP2230 projector to provide visitors from Korea and overseas with the best and most memorable visual experience at the Space Tour 4D Theater. It is heartening to know that our customers recognize that our projectors, in addition to having exceptional image quality, offer the best light efficiency, the lowest operating costs, and upgradability both now and in the future."
About Everland:
Everland Resort, opened in 1976, is the largest theme park in South Korea. It is home to over 40 heart-pounding rides and attractions, and is also known for its gorgeous flower arrangements and beautiful gardens. Full of exciting attractions and entertainment, Everland is one of the most popular places in Korea for families, friends, and couples. For more information, go to http://www.everland.com.
About Christie:
Christie Digital Systems USA, Inc. is a global visual technologies company and is a wholly-owned subsidiary of Ushio, Inc., Japan. Consistently setting the standards by being the first to market some of the world's most advanced projectors and complete system displays, Christie is recognized as one of the most innovative visual technology companies in the world. From retail displays to Hollywood, mission critical command centers to classrooms and training simulators, Christie display solutions and projectors capture the attention of audiences around the world with dynamic and stunning images.
http://www.christiedigital.com.
Follow Christie at:
Twitter.com/christiedigital
Facebook.com/christiedigital
Christie® is a registered trademark of Christie Digital Systems USA, Inc., registered in the United States of America and certain other countries. Christie Vive Audio™ is a trademark of Christie Digital Systems USA, Inc.
DLP® is a registered trademark of Texas Instruments.
Dolby Atmos is a trademark of Dolby Laboratories.