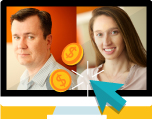 [Keyword advertising] in itself isn't a bulletproof marketing solution. Many niche keyword segments have been priced out of the point of being profitable marketing solutions.
Charlottesville, VA (PRWEB) June 10, 2014
While paid search marketing has long been proven an effective advertising method for demand and lead generation, the costs per click (CPC) of many paid search keywords have increased dramatically over the years. A recent study by Kenshoo reports an increase in CPCs of almost six percent across search engines.
If your company promotes itself through paid search campaigns on platforms like Google AdWords, you may be grappling with this challenge. Tad Miller and Amanda Sides of digital marketing agency Marketing Mojo will talk about solutions for increasing conversions while reducing cost during the upcoming webinar "Is Paid Search Failing You?," taking place on June 12, 2014 at 2 p.m. ET.
Miller, Vice President of Accounts at Marketing Mojo, will discuss the myriad of challenges that paid search presents for marketers.
"Keyword advertising is still 'pull marketing' in that it delivers ads directly relevant to what searchers are looking for," said Miller. "But, that in itself isn't a bulletproof marketing solution. Many niche keyword segments have been priced out of the point of being profitable marketing solutions."
"Searcher intent and context of keywords also doesn't always match one to one with your advertised products or solutions," Miller adds. "The good news, though, is that there are alternatives that can lower your advertising costs and add context to the customer."
Sides, Account Director at Marketing Mojo, will share some of the solutions marketers should consider for improving their online advertising results, including retargeting.
"When marketers typically think of Google AdWords, they think of keyword-triggered ads, which can become more expensive over time while generating less targeted leads," said Sides. "However, retargeting through platforms like AdWords provides a more targeted and less expensive way of increasing your returns. I'll be talking about the opportunities available with retargeting, including through social media platforms such as Facebook and LinkedIn."
During this webinar, marketing professionals will hear about:

How social media advertising can be utilized as a viable marketing channel
What other opportunities exist within Google AdWords, beyond standard keyword-triggered search advertising
How retargeting can win back lost visitors and opportunities
To register for the webinar, go to marketing-mojo.com/lp/paid-search/.
About Marketing Mojo
Marketing Mojo is a full-service, data-driven online marketing and demand generation agency. Originally founded in 2005 as Search Mojo, Marketing Mojo has evolved its core services to adapt to the ever-changing needs and challenges of marketers – helping them to achieve their online marketing goals through search marketing, paid media, content marketing and marketing automation. With experience in a wide range of digital marketing disciplines, the Marketing Mojo team uses the latest information and techniques to help companies maximize the sales funnel and get the highest quality results based on their goals. For more information, visit Marketing Mojo at marketing-mojo.com or read the Marketing Mojo blog at marketing-mojo.com/blog.