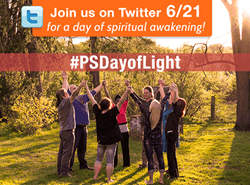 By bringing together our community of powerful psychics and energy channelers, along with thousands of friends and followers, we will create a huge flow of positive energy to benefit everyone.
Langhorne, PA (PRWEB) June 11, 2014
If you remember that June 21st is the summer solstice – when daylight lingers longer than at any other time of year – you might already be paying attention to the special energy on that day. But even if you forget the solstice this year, you might suddenly feel a jolt of positive force beaming toward you from somewhere in the universe.
That positive energy will likely be flowing courtesy of the "Day of Light" -- a special event organized by Psychic Source, the most trusted psychic service since 1989, to share the love and draw on the positive healing powers of its psychics and followers.
On June 21st, Psychic Source's Day of Light event will bring together over 100 professional psychics and spiritual practitioners, creating a matrix of healing energy and sending it out to the planet and to anyone who chooses to participate in the event through Twitter.
"By coming together with positive thoughts and intentions all on a single day, we believe we can create a powerful experience for those who participate," said Psychic Source Marketing Director, Maryanne Fiedler, "just as we provide powerful emotional and spiritual experiences for individual customers on a daily basis." It's a way to "give back to our community and the world around us, as we mark 25 years of trusted psychic services," she added.
Twitter users may send requests for healing and positive energy to #PSDayofLight by June 20th.
More information about the Psychic Source 25th Anniversary celebrations, as well as its history, staff, and psychic advisors can be found in the Psychic Source 25th Anniversary Newsletter.
*****
About Psychic Source:
Founded in 1989, Psychic Source is the nation's oldest and most respected psychic service. Psychic Source's advisors are experts in astrology, horoscopes, numerology, tarot cards, clairvoyant readings, and many other psychic disciplines. Psychic Source believes in its community of authentic Psychics and stands behind the authentic psychic readings they deliver to clients. Visit them online at http://www.psychicsource.com.
For more information, contact:
Maryanne Fiedler, Marketing Director
maryanne(at)psychicsource(dot)com
215-953-8568