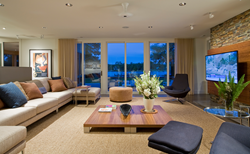 Washington, DC (PRWEB) June 12, 2014
Ernesto Santalla of Studio Santalla [link: http://www.studiosantalla.com/ was recently featured by The Washington Post for his recent work on a Rock Hall, MD property. The one-story, cedar-clad property is built on concrete piers (should the nearby Grays Inn Creek overflow and flood the property), and was purchased by a local couple for its waterfront and naturally peaceful setting.
The Washington Post article, "Collaborative approach yields a Md. waterfront home that blends with its environment" [http://www.washingtonpost.com/realestate/collaborative-approach-yields-a-md-waterfront-home-that-blends-with-its-environment/2014/05/28/cc1b2cd0-dd35-11e3-bda1-9b46b2066796_story.html , by Deborah K. Dietsch, first details that the home-owning couple wanted their property and home interior to reflect the area's natural surroundings. As part of the design process, Santalla asked the couple to collect various natural elements surrounding the property – like pebbles, rocks, leaves, branches, and more. In doing so, Santalla was able to brainstorm color palettes for finishes and materials and integrate them into the interior design of the home.
As one of the home's many designers, Santalla made sure that the décor maintained a sophisticated, contemporary feel, and integrated family heirlooms and modern pieces. In addition, he made sure to make luxe, high-end seating a priority and focal point, especially since the homeowners entertain and plan on having frequent overnight guests. As such, Santalla brought in Italian-made seating for both aesthetics and function.
Santalla resorted back to the nature-inspired collection that the couple had picked up, too, by designing a walnut headboard with matching nightstands, as well as shelving. To also reflect the surrounding Chesapeake Bay estuary, Santalla also added sandstone-covered walls.
"The design team had collaborated on the couple's apartment in the historic Watergate building in Washington, DC. As such, it was as much of an honor and a challenge to work with them again. The challenge arose from creating a home that was different and distinct from the city dwelling, yet aligned with their preferences," Santalla remarks.
For more information about Ernesto Santalla or Studio Santalla, please visit http://www.studiosantalla.com/.
About Studio Santalla
Ernesto, president and founder of Studio Santalla, inc., was born in Cuba and received a degree in Architecture from Cornell University in 1984, following which he moved to Washington, DC, and became a registered architect. Since then, he has contributed to the changing skyline of DC and worked on projects in the United States, Puerto Rico, and Europe. His work has been widely published and received numerous awards.