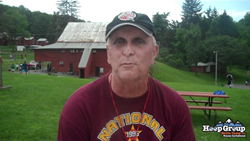 Stroudsburg, PA (PRWEB) June 11, 2014
As the school year ends, many kids are looking to sign up for summer camp. Taking place in the Pocono Mountains of Stroudsburg, Pennsylvania, Hoop Group's Bob Hurley Basketball Camp will be held three separate weeks: the boys camp is June 29-July 3, and August 17-21. The girls camp is August 3-6.
The Pocono facility has 37 cabins with 8-20 bunks in each, a dining hall for all meals, and 13 outdoor courts. The staff-to-camper ratio is 1:7, and any kids over the age of 9 are welcome!
Coach Hurley will provide help with basketball skills like dribbling and dunking, and will teach the drills that have led St. Anthony High School (New Jersey) to four national championships and a national record of 25 state titles. He and other premiere teachers will offer lectures, as well as early bird and individual workouts during free time. St. Anthony sends their entire program, so kids can play with and compete against some of the best players in America.
"Bob Hurley Camp provides a unique opportunity to learn from a hall of fame basketball coach, have unlimited access to the knowledge of the best basketball teacher in the country, and come away with drills that have led St. Anthony's to 4 national championships and a national record 25 state titles," says Ryan Finch, Skills Director at Hoop Group.
At the end of the week, each child will be provided with an evaluation, including a personalized written summary of the week with tailored drills and suggestions for improvements. The camp has sold out the last 10 straight summers.
For more information, contact Ryan Finch or Chris Zupko, or visit hoopgroup.com/skills/bob-hurley-basketball-camp.
About Bob Hurley
As former head coach of St. Anthony High School in New Jersey, Coach Hurley left after 35 years and over 1,050 wins. In 2012, Coach Hurley won his 12th state title with a Tournament of Champions win, which was his 65th win in the last two undefeated seasons.
About Hoop Group
Hoop Group is the worldwide leader in basketball instruction, offering premier basketball camps since the summer of 1963. Having touched the lives of over one million young men and women, Hoop Group has evolved from simply offering summer basketball camps, to hosting tournaments and competitions, skills camps, and basketball facilities to the basketball community.
Contact:
Ryan Finch or Chris Zupko
Finch(at)hoopgroup(dot)com
Zupko(at)hoopgroup(dot)com
Hoop Group
(570) 992-6343
hoopgroup.com