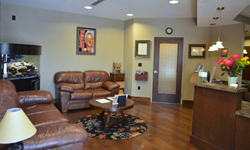 Cosmetic Dentistry is becoming an important part of comprehensive dental care. -- Dr. James Wells, South Charlotte Dentistry
(PRWEB) June 12, 2014
Cosmetic Dentistry is an investment; however, many people think of it as a luxury. Dr. James Wells believes that cosmetic dentistry does more than just improve one's look. "Cosmetic dentistry can achieve positive results that improve your smile, well-being, and overall oral health," says Dr. Wells. "We concentrate on comprehensive care."
What is Cosmetic Dentistry?
Cosmetic Dentistry is dentistry that is focused on improving the look of your teeth and smile. Most people think of teeth whitening and veneers. But cosmetic dentistry can also close gaps, shape teeth and replace teeth. All these improvements aim to boost a client's self- esteem and create a beautiful smile.
"There is no perfect smile," says Dr. Wells, "But together, we can achieve a smile that you are proud of."
Teeth Whitening
South Charlotte Dentistry offers different teeth whitening procedures. Over time, teeth undergo a discoloration process due to the foods and drinks we consume. "Regardless of how much you brush, your teeth will darken or yellow over time," says Dr. Wells. South Charlotte Dentistry offers Zoom whitening which is a procedure that consists of three 15-minute sessions. They also offer whitening trays that clients use at home.
Same Day Crowns, Implants, and Invisalign
Although cosmetic dentistry is focused on appearance, certain procedures also are corrective. "Because we offer both general dentistry and cosmetic dentistry, we can make sure to correct issues and as well as make you have a beautiful smile."
South Charlotte Dentistry offers same day crowns by using CEREC technology. The end result is a crown that is very natural-looking. This procedure only takes about an hour. For missing teeth or teeth that need to be extracted, a dental implant can be used. Dr. Wells recommends an implant instead of a traditional bridge or denture, but an implant is not always appropriate for every client.
Braces have been around for a long time, and advances in technology have improved the look and feel of traditional braces. South Charlotte Dentistry offers Invisalign, an alternative to traditional braces that can correct gapped teeth, overbites, under bites, open bites, overcrowding and cross bites.
More than Just Looks
Many reality makeover shows use cosmetic dentistry to improve the look of their participants, but there is also an emotional element. "Improved confidence can also be a result of cosmetic dentistry," says Dr. Wells. "You can really see the difference in a patient's demeanor after we complete a procedure." This can oftentimes create improvements in the professional and personal lives of patients.
South Charlotte Dentistry is proud to offer cosmetic dentistry to their patients. Whether a patient is in need of corrective procedures to improve the function of their teeth or just wanting to improve their smile, Dr. Wells provides comprehensive care.