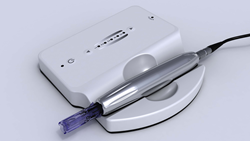 Salt Lake City, Utah (PRWEB) July 08, 2014
From Derma Pen, LLC, the company who brought you the Dermapen®, comes the latest, most technologically advanced micro-needling system - The MDerma™ FDS - Fractional Dermabrasion System. The MDerma™ FDS is manufactured in the United States and is listed as a Class 1 FDA device. MDerma™ FDS delivers the most advanced and innovative, non-surgical cosmetic treatment on the market today. This micro-needling procedure provides an unparalleled response via the fractional delivery of needles for micro-injuries to the epidermis and dermis with a superior effect on collagen and elastin rejuvenation. The body's ability to remodel and heal itself is at the heart of this amazing process. MDerma™ FDS promotes scar-less healing and natural collagen reproduction, similar to fractional laser treatments, IPL, laser resurfacing, and chemical peels, but without the side effects and downtime.
Tensage from Biopelle, Inc. is the growth factor component to its eponymous biopelle brand. Tensage contains SCA Biorepair technology, a safe and natural growth factor derived from a special species of snail, the Cryptomphalus aspersa, and clinically proven to revitalize and restore the appearance of photodamaged skin. The Tensage product line has been used and sold in medical-aesthetic offices throughout the world since 2006.
Using Tensage Intensive Serum 40 with the MDerma™ FDS is the new "standard of care" in Collagen Induction Therapy (CIT) as it speeds recovery time and increases efficacy with the infusion of this powerful and safe animal growth factor. The addition of Tensage Intensive Serum 40 to the MDerma™ FDS fractional dermabrasion procedure will increase office income as well as patient outcomes.
The joint venture, brought to you by Advanced Microneedling Systems, LLP, is a stand-alone unit created to provide aesthetic practitioners with a bundled package of products from both companies. This package will include one MDerma™ FDS, 60 disposable needle tips and maintenance accessories, as well as 60 Tensage® Intensive Serum 40 and 60 LMX4®. This comprehensive package for 60 patients will be available at a substantial discount beginning August of 2014.
About Derma Pen, LLC
Derma Pen, LLC: the world's first micro-needling choice for medical professionals and patients and a leading distributor of micro-needling devices. Derma Pen, LLC's devices work via a process known as fractional dermabrasion, which rejuvenates skin by activating collagen production in the dermal and hypodermal regions. It is designed for use in general dermabrasion, scar revision, acne scar revision, and tattoo removal. It is also effective in reducing visible stretch marks and shallow wrinkles.
About Biopelle, Inc.
Biopelle, Inc, a Ferndale Pharma Group company, is a worldwide leader in evidence-based skin care, providing aesthetic professionals with cutting edge technologies through its global spectrum of skin care. Biopelle's two brands are PRESCRIBEDsolutions, the only multi-tasking customizable skincare line with boosters, using unique performance ingredients for optimal results; and the biopelle brand, featuring evidence-based ingredients targeting specific pathways for increased efficacy in skin rejuvenation and wellness.
To learn more, visit Dermapen at http://dermapen.com or Biopelle at http://www.biopelle.com.