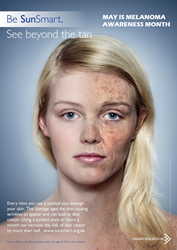 The tan may fade but the skin never forgets.
Scunthorpe UK (PRWEB UK) 3 July 2014
Terminal melanoma patient, Mark Carter, has joined forces with other melanoma patients, doctors and patient advocates in an attempt to force a ban on sunbeds in the UK. A film entitled "Dying for a Tan" has been made under Mark's supervision and will be used to gather support for a complete ban on sunbeds.
Since learning of his terminal diagnosis, Mark has been introduced to many other seriously ill patients who have been regular sunbed users. Speaking from his home in Messingham, Mark says, "I have been shocked at the number of sunbed users who are dying because they wanted a tan." Cancer Research UK do not recommend the use of sunbeds for cosmetic purposes whatsoever, and too many people are ignorant of the serious health risks associated with using them.
Sunbed Ban UK is Mark's website and its aim is to promote awareness of the abuse of sunbeds and discourage their use, leading to an eventual ban.
Melanoma patients Damien Platt and Heather Birch are seen speaking candidly about the disease, and widow Joann Wheeldon, whose husband Terry used sunbeds, also speaks out against the sun bed industry.
Melanoma is the most serious form of skin cancer, and rates have increased fivefold since 1970. It is widely accepted by the medical profession that sunbeds and skin cancer have proven links.
Sign the petition here. Ban commercial sunbeds in the UK to save lives
Contacts
Mark Carter 07910376445 email:- capybara7(at)gmail(dot)com
Gillian Nuttal - MelanomaUK email:- gillian.nuttall(at)melanomauk(dot)org(dot)uk Tel:- 07530986477
Heather Birch Tel:- 07595332175