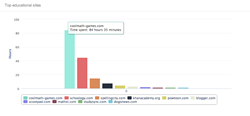 The point of web-filtering is no longer just to block. The point is to modify behavior. This makes auditing and analytics based on user-identity necessary.
Santa Clara, CA (PRWEB) June 10, 2014
Silicon Valley-based Securly, Inc. - the world's leading cloud based provider of Internet Security for K-12 schools today announced the launch of Student Achievement Analytics. The new offering leverages the power of big-data analysis to give school leadership critical visibility into how students and teachers in their district are really using technology.
As more districts adopt platforms like Chromebooks and iPads, critical questions that would give senior leadership teams the confidence they need to expand smaller pilot programs remain unanswered. How much time are students spending on educational sites versus non-educational sites? Which educational apps are the most popular?
Securly provides reporting based on a logged in user's Google Apps ID. This has been especially useful for schools that have chosen to "go Google" by moving to the free Apps for Education platform. The launch of Securly's achievement analytics helps school leadership use a combination of highly visual charts and simple commands to answer questions about aggregate student activity. Examples of data that can be mined from Securly's Analytics engine include:

What are students spending most time on? : At a glance, a user is able to see if students are spending time on the right things. This would be the basis for figuring out return on investment for EdTech spend.
What are students searching on Google? : This is especially important given that online behavior can a leading indicator of offline behavior.
What are kids spending time on at home? : Is there an educational benefit to sending devices home?
Who are the top users accessing the websites related to narcotics? : The proverbial needle in the haystack that could facilitate early intervention.
From a web-filtering and compliance perspective, Securly's Analytics engine addresses a critical need that schools face. In a world where children are required to learn from social media websites like YouTube and Wikipedia (thanks to common core requirements adopted by 45 out of 50 states), simple "blocking" of these web-sites is no longer enough. This is especially true given that these websites often harbor age-inappropriate content. Explains Tim White, Technology Director of Webb City R-VII school district in Missouri - "The point of web-filtering is no longer just to block. The point is to modify behavior. This makes auditing and analytics based on user-identity necessary."
The offering was driven by real customer demand for a solution that answers questions on student screen-time and is able to disseminate that information to IT admins, teachers, principals and parents. The company has been running the feature in beta for several months already and feedback from users has been consistently positive.
"Being able to perform high performance indexing and lookups on TeraBytes of student data in the cloud while maintaining performance is a hard engineering problem and the Securly R&D team is proud to have accomplished this," said Securly CEO Vinay Mahadik. "The kind of functionality included in the offering was until now achievable only by a combination of high-end appliances and locally hosted software."
About Securly:
Securly is the world's leading provider of cloud based security for K-12 schools. The founding team has a combined 20+ years of experience in the network security space. The company is a venture backed startup in Silicon Valley and serves hundreds of schools in North America, Europe and the Asia Pacific region.