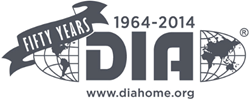 Washington (PRWEB) June 10, 2014
Reporters are invited to learn about the hot topics, prominent professionals and late-breaking sessions coming up at the DIA 2014 50th Annual Meeting on a media pre-call to be held Thursday, June 12, at 1 p.m. EDT (10 a.m. PDT). DIA content managers will highlight sessions addressing urgent issues in drug development and access, and will answer questions about the sessions reporters are interested in covering during the June 15–19 event at the San Diego Convention Center.
Hot topics include patient engagement, regenerative medicine, regulation for stem cell research, 3-D printed products and the changing landscape of bioinnovation. Among the regulatory issues to be examined are the Food and Drug Administration's efforts to expand its offices overseas, along with updates from regulatory agencies around the world.
What: DIA 2014 50th Annual Meeting media pre-call
When: Thursday, June 12, 1 p.m. EDT (10 a.m. PDT)
Dial-in: 888-438-5448; code: 9723397
RSVP: Robyn Mincher, rmincher(at)reingold(dot)com, 571-814-3367
ABOUT DIA: DIA is the global connector in the life sciences product development process. Our association of more than 18,000 members builds productive relationships by bringing together regulators, innovators and influencers to exchange knowledge and collaborate in a neutral setting. DIA's network creates unparalleled opportunities for the exchange of knowledge and has the interdisciplinary experience to prepare for future developments. DIA is an independent, nonprofit organization with its global center in Washington, D.C., USA, and regional offices covering North and South America (Horsham, Pa., USA); Europe, North Africa and the Middle East (Basel, Switzerland); and Japan (Tokyo), India (Mumbai) and China (Beijing). For more information, visit http://www.diahome.org.
ABOUT DIA's 2014 50th ANNUAL MEETING: Celebrate the Past – Invent the Future is the largest multidisciplinary event that brings together a community of life sciences professionals at all levels and across all disciplines involved in the discovery, development and life cycle management of medical products. The meeting aims to foster innovation that will lead to the development of safe and effective medical products and therapies for patients. For more information, visit http://www.diahome.org/dia2014.