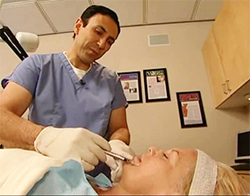 Los Angeles, CA (PRWEB) June 10, 2014
On June 5, 2014, the United States Attorney for the Western District of Missouri announced that an Illinois man has pleaded guilty to selling foreign-manufactured Botox and Juvéderm. Case number 4:13-CR-00101-HFS was heard in the United States District Court for the Western District of Missouri. The Botox in question was manufactured in the UK and not FDA approved for sale in the US. It is a felony to distribute misbranded drugs into interstate commerce, in this case via Federal Express. Further, the foreign-manufactured Botox did not contain the "black box" and "Rx only" warnings required for US versions of the drug. (See: goo.gl/jcthhp)
"It is no surprise, I guess, that someone like this defendant will try to cheat the system when there's so much money to be made," says Dr. Simon Ourian, Medical Director of Epione Beverly Hills. "What is more disappointing is that this illegal Botox and Juvéderm was sold to physicians who, perhaps, should have known better. This report didn't mention that any physicians were being investigated by the authorities as they were in previous counterfeit Botox cases."
According to the US Attorney's office, undercover FDA agents made purchases of the illegal products from the defendant in 2009-2010. The defendant admitted to distributing approximately 5,879 units of misbranded Botox and Juvéderm to physicians and other health care professionals around the country in the period 2008-2011. The retail value of these sales was greater than $3 million.
"I created a six-point Botox safety checklist that consumers can use to protect themselves from unscrupulous providers," says Dr. Ourian. "At a minimum, I suggest that patients take great care in choosing a medical professional for their Botox treatment. And I can't emphasize enough that only a medical professional is legally permitted to inject Botox."
Dr. Ourian has been a pioneer in laser technology and non-invasive aesthetic procedures including Restylane, Juvéderm, Radiesse, Sculptra and CoolSculpting. These treatments are used for the correction or reversal of a variety of conditions such as acne, acne scars, skin discoloration, wrinkles, stretch marks, varicose veins, cellulite, and others. More information about Botox can be found on Epione's website.