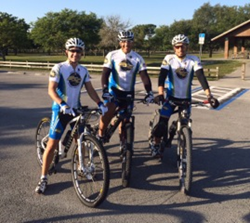 Our mission is promoting a healthy active lifestyle by training, competing, and participate in local cycling fundraiser events.
Ft. Lauderdale, FL (PRWEB) June 10, 2014
Recently participating in their kick-off cycle race at the Amelia Earhart STXC race last week, the Miami security company, Bryant Security came out in full force. Helping to raise awareness of the Amelia Earhart Mountain Bike Trails, which all proceeds go toward new trails, was a huge success. Announcing their Team Bryant consisting of Gal Ben-David, Shay Ben-David, Rani Ben-David, Juan Villegas, David Kalin, Peter Pasche and Moti Bilia, the uniformed security specialists ride for a good cause. Team Bryant is looking forward to this month's race in North Carolina, which will benefit the ORAMM.
The Miami security company takes charity very seriously. Participating in many events through out the year including, sponsoring, playing sports, and donating time to non profits in need. The Team Bryant cycling unit is something new the security company is trying, to help raise awareness of important causes, and also set good examples of healthy lifestyles in their communities. "Our mission is promoting a healthy active lifestyle by training, competing, and participate in local cycling fundraiser events," says Bryant Security President, Shay Ben-David, "and also setting a good example for the kids." Team Bryant has been training for months in preparation for the upcoming races.
Another race near to the Miami security companies heart is the 9/11 Memorial Bike Ride in September called Tour De Force. Three Hundred participants will depart from the Boston Marathon Finish Line along with one hundred and fifty Sean's Ride participants and cycle through Boston, into Rhode Island, through the New England countryside to the Connecticut coast. After a ferry ride across the sound, the journey will continue through Long Island's wine country and into NYC to the Freedom Tower.
To keep track of Team Bryant's races and to follow their upcoming racing schedule, log onto http://www.BryantSecurity.com or follow them on Facebook and Twitter.
About Bryant Security
BRYANT SECURITY is one of South Florida's most established and well diversified security companies. Providing South Florida guard services armed and unarmed in the Miami-Dade and Broward Counties, this family-owned and operated business has proudly served and protected the community, property and people since 1985.
Offering innovation, quality, professionalism, resourcefulness, experience and flexibility, this makes Bryant Security the security services industry leader of South Florida. Mandating skilled manpower, teamwork, expertise, specialty knowledge and trained security officers to demonstrate precise and flawless conduct at all times. From executive level protection to CCTV Camera and Entry Systems, they demand the very best! Each protection task private or public that their protection officers undertake calls upon their extensive training which focuses on ensuring the security and safety of your company, property and staff.
When you select BRYANT SECURITY you are ensuring that your facility will enjoy the highest possible degree of Miami professional security. Their management team consists of hands-on leaders who will work directly with you in planning and implementing your campus' security and contingency planning needs. BryantSecurity.com or 305-405-4001.