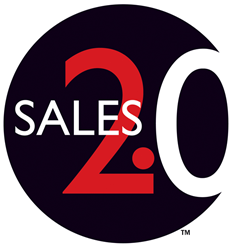 Santa Cruz, CA (PRWEB) June 11, 2014
Sales Dot Two, Inc., producer of a leading industry event series for B2B sales managers and executives, is pleased to announce that the agenda and speaker lineup for the Boston Sales 2.0 Conference in July is now live.
The event, which is centered on the theme "Success in Real Time," will focus on technology, processes, and leadership initiatives that can help companies achieve long-term success and build a sustainable revenue engine.
Topics include the following:

How to Tackle the Four Megatrends Upending Sales
The Seven Sales 2.0 Trends That Will Change Your Business
Lessons from a World-Class Sales Organization: How Heartland Payment Systems Improves Sales Performance and Productivity
Sell Smarter – The Future of Sales
The Seven Deadly Sins of Desperation Selling
Sales Enablement and Training Strategies That Get Results
How HubSpot Scaled Sales Using Science & Social Selling
Preparing People and Organizations for the Challenge of Change: Seven Critical Success Factors
Speakers at the Boston event include the following:
Scott Broomfield
Chief Marketing Officer, Xactly Corporation
Bob Carr
Chairman & Chief Executive Officer, Heartland Payment Systems
Garcia Glover
Managing Partner, Axle Sales Partners
Hila Nir
Vice President, Marketing, ZoomInfo
Chuck Penfield
Regional Vice President of Sales, Cloud CRM Applications, Oracle
Mark Roberge
Chief Revenue Officer, HubSpot
Dr. Tom Sant
Hyde Park Partners
Dr. David A. Shore
Faculty, Harvard University; Adjunct Professor of Organizational Development and Change, Business School, University of Monterrey, Mexico
Jennifer Stanley
Expert Associate Partner, McKinsey & Company
Kevin Starner
Vice President, Sales Enablement, Iron Mountain
The full biographies of each speaker can be seen here.
Alice Heiman, founder and chief sales officer of Alice Heiman, LLC, will serve as chief networking officer for the event. Alice has been helping companies increase sales since 1994. Formerly with Miller Heiman, Inc., Alice started her own company in 1997. As creator of the BizTalk Blender®, networking is one of her great passions and talents, and it's one of the easiest and most effective ways she's found for salespeople and small business owners to increase sales. Her training program, Connecting Your Way to New Business, guides business professionals through the strategies and nuances needed to network for new prospects and sales.
"Alice served as an excellent emcee and chief networking officer at the Sales 2.0 Conference in San Francisco earlier this year," says Gerhard Gschwandtner, Sales 2.0 Conference speaker and founder of Selling Power. "We look forward to introducing her to our audience in Boston and benefitting once again from her skill in helping attendees make strong and valuable connections with one another."
The Sales 2.0 Conference has been hailed by Forbes magazine as one of the top 10 conferences entrepreneurs should attend in 2014.
The Sales 2.0 Conference will be held on July 14 in Boston. Discounts are available for those who register before June 18.
About the Sales 2.0 Conference
The Sales 2.0 Conference showcases leadership strategies and SaaS technologies that help B2B sales and marketing leaders create more competitive teams and drive higher profit. Attendees learn how to achieve measurable success in such areas as CRM use, sales and marketing collaboration, lead generation and pipeline management, social media for sales and marketing, analytics and metrics management, customer engagement, sales transformation and change leadership, and sales process improvement.