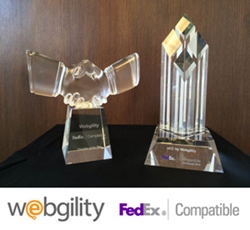 "Our goal is to provide best-in-class accounting automation and shipping software and we've seen tremendous growth with customers using FedEx. This award will continue to propel that growth."
San Francisco, CA (PRWEB) June 11, 2014
Webgility, a leader in accounting automation for small- and medium-sized businesses, achieved Diamond status in FedEx Compatible for its eCC Desktop software. The software is distinguished from other FedEx Compatible solutions for its integration with FedEx, QuickBooks, and over 40 eCommerce platforms, enabling small businesses to streamline their operations and keep their accounting and financials up to date.
Webgility was named FedEx's Provider of the Year for scoring the highest marks on four FedEx Compatible categories: customer adoption, growth, potential, and contribution. A Certified FedEx Compatible provider since 2010, Webgility has worked closely with FedEx to provide seamless integration, FedEx-compatible products, and robust features that help thousands of small businesses simplify their eCommerce shipping and accounting.
"We're honored to receive this recognition, as it validates our strong commitment to the FedEx Compatible program," said Parag Mamnani, Founder and CEO of Webgility. "Our goal is to provide best-in-class accounting automation and shipping software and we've seen tremendous growth with customers using FedEx. This award will continue to propel that growth."
eCC Desktop is Webgility's flagship product, and is certified by FedEx and Intuit. eCommerce retailers can use their FedEx account to print shipping labels for their online orders, and integrate with QuickBooks for accounting automation. eCC Desktop automatically pulls orders from all the online sales channels and helps small businesses improve customer service by keeping customers notified of their shipments.
eCC Desktop works with over 40 of the leading eCommerce platforms (e.g., Amazon, eBay, Bigcommerce, Magento, Shopify), all versions of QuickBooks PC editions (Pro, Premier, Enterprise, and Point of Sale), and major shipping processors (e.g., FedEx). Webgility offers accounting solutions with eCC Desktop that include shipping integration for free. For more information about eCC Desktop or to sign up for a free 15-day trial, visit http://www.webgility.com/ecc-desktop/fedex or call (877) 753-5373.
About Webgility, Inc.
Webgility makes accounting easier for small businesses through automation. Headquartered in San Francisco, CA, Webgility has helped thousands of SMBs streamline their operations and automate their accounting, saving them time and money. Its flagship software, eCC Desktop, is certified with Intuit QuickBooks and FedEx, and integrates with over 40 eCommerce platforms and leading SaaS applications for SMBs. With sales transactions automatically recorded in QuickBooks, orders processed, and store data synchronized, businesses can instantly track their cash flow and get the financial insights they need to grow. To learn more about Webgility, visit webgility.com or call (877) 753-5373.