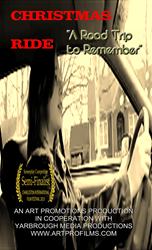 "This film is really meaningful and held our attention until the end."Quote from attendee at Memphis Premier.
Scottsdale, AZ (PRWEB) June 12, 2014
Having a feature movie "in the can" as the saying goes, is no easy task. That is the status of the stirring new 108 film Christmas Ride today as it exists in Blu-ray DVD format. Producer, Karen Francis, is seeking to find an experienced distribution company of family/faith focused films to handle the theatrical roll out prior to TV, internet and DVD launch.
An artist named Keri is the main character in this suspenseful, independent movie. After hearing a supernatural warning, she travels with her two kids and a mysterious neighbor on an urgent journey through the South at Christmastime 1991, facing dangerous situations on this road trip to remember, and ultimately learning a heartbreaking truth, testing her deepest held beliefs, in a surprising climatic plot twist.
Characters in Christmas Ride include policemen, robbers, a veteran, ghosts, pilot, golfer, a widow, divorced singles, parents, kids, truckers, housekeepers, business owners, soldiers, commandos, choir members, worship leaders, a news reporter and cameraman, car repairman, bus driver, relatives, friends, and others from everyday walks of life.
Art Promotions of Memphis with the cooperation of Yarbrough Media Productions produced the film. It was recorded primarily in Covington, TN, with a few scenes also in MS, VA, Washington DC, CA, and MA. Its message is ultimately one of forgiveness based on Christian traditions and responsible behavior at the wheel.
The screenplay was selected as a semi-finalist in the Charleston International Screenwriters Competition. The family movie includes children and teens in the cast and special effects for the supernatural elements. The multigenerational cast includes a lot of fresh faces and Southern based talent as well as actor H T Altman of Minnesota.
The music in Christmas Ride is by experienced composers whose other works are in several Hollywood films as well as by some rising singer songwriters. See http://www.artprofilms.com for details. The film is a warm hearted dramatic story with some laughs and tears that should hold a broad based appeal for most demographics.
At the one night showing in Memphis Oct 29,2013, here are some unsolicited comments of the audience members:
"I just can't tell you how much we enjoyed the movie. It was great!!! It was exactly the kind of movie we like to see. The music was beautiful . . ."
Art Promotions is actively raising awareness of the Christmas Ride move through press releases and posts to social media on numerous websites including: Twitter, Facebook, Stumble Upon, Fineartamerica.com, Pinterest, Google, IMDB, CFDB, christmasride.wordpress.com blog, and YouTube where trailers and spots for Christmas Ride may be found. http://www.youtube.com/blessings427 and in the film database IMDB at: http://www.imdb.com/title/tt3042886/?ref_=fn_tt_tt_1. http://www.facebook.com/christmasride
This film represents the culmination of several years work. The script was registered with the Library of Congress in 2011, the filming took place over the last quarter 2012 and first quarter 2013, with the editing and scoring of the film happening during 2013. It is a real opportunity for a distribution company with an established domestic or international network of theaters. Interested parties may contact the producer Karen Francis, owner of Art Promotions at 901 289-4939 or by writing 1138 N. Germantown Parkway, Suite 101, #132 Cordova, TN 38016 or kfrancis427!(at)gmail(dot)com for a screener or press kit or to schedule a meeting.
A trailer for Christmas Ride: http://youtu.be/Av3E6UQSwqg.
Art Promotions, a business started in 1989 and currently located in Memphis, TN, specializes in paintings, prints and productions. Christmas Ride is the company's premier feature film released through its Production division. Art Promotions sponsored educational programs on cable access TV in Virginia 1990-1996, maintains several websites about its products on the web, and places the artworks of Karen Francis on fineartamerica.com