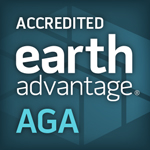 Portland, OR (PRWEB) June 10, 2014
The Accredited Green Appraiser (AGA) program (formerly CRGA) is a rigorous designation that provides appraisal professionals with a competitive edge in the valuation of energy efficient and green homes in their market. The program was co-developed with the leading green appraiser expert and instructor, Taylor Watkins in 2009. To date, Earth Advantage has delivered more than 70 green trainings to over 600 appraisers across the U.S., with more locations being added within the year.
A rapidly increasing number of states and municipalities are now setting standards for accurately considering the value of green attributes in homes, and Earth Advantage is meeting this growing demand by supplying appraisers with a flexible pathway towards earning a green accreditation that will now require continuing education in order to maintain.
In order to obtain the AGA designation, professionals are required to complete three course modules: Construction Methods & Trends, Valuation Techniques, and Advanced Applications, and pass the qualifying exam. Online courses are available for those unable to attend live classes.
Nathaniel Cramer, of the Massachusetts Department of Revenue, said, "The Appraising Green Homes classes are easily some of the best appraisal classes I have ever taken. High performance homes are becoming more and more common in New England, and I feel that I now have a leg up on my colleagues who did not attend."
For more information on gaining accreditation or maintaining credentials, visit: earthadvantage.org/education/.
About Earth Advantage
Earth Advantage is a Portland, Oregon based nonprofit whose mission is to accelerate the creation of better buildings. They provide knowledge to building professionals and information to consumers through certification, research, education, and product development to help realize a building industry that harmonizes with the natural environment.