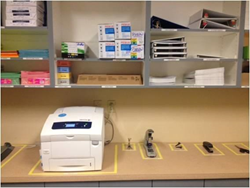 Having Lean systems in place will enable our company to meet the needs of our customers and to grow.
Rocklin, CA (PRWEB) June 11, 2014
For Ruzwa Cooper, CEO, Cooper Oates Air Conditioning, maintaining the highest level of customer satisfaction is the goal of implementing Lean construction processes at the Sacramento-based firm. To prepare staff to look at their work methods from a Lean perspective, Cooper and several employees recently attended Lean training on using 7S tools presented by Sierra College Center for Applied Competitive Technologies (CACT) with the Continuous Improvement Network.
The series of Lean workshops will continue on August 6 & 20 with Value Stream Mapping (VSM), explained Carol Pepper-Kittredge, CACT Director, Sierra College. "VSM is a method to visually depict processes showing both current work flow and a more efficient future model of operations," said Pepper-Kittredge. "It helps businesses select, prioritize and implement changes that will improve the flow of work." Learn more about this workshop at Continuous Improvement Network events.
According to Cooper, the recent training introduced Lean business methods. "With a Lean mindset, COAC employees can enhance the way they plan, organize, mobilize and deliver service to our customers," said Cooper. "A Lean approach develops clarity of purpose and gives staff a broader understanding of what we do and how we do it. Working together on improving our processes, we can keep our customers happy."
"Many people assume that the objective of Lean is saving time and money," said Cooper. "Lean changes a company's culture by emphasizing the need to think about process improvement as a continuous journey rather than a destination. It also increases understanding among employees of their role in the company's structure and strategy and gives them a voice in making changes."
As a Lean tool, 7S helps employees become more effective by organizing their work areas to maximize efficiency, eliminating unneeded materials and providing visual cues to make it easy for other people to follow the processes. The 7S principles are sort, set in order, shine, safety, sustainability, standardize and sustain.
When changes are made using 7S, employees can quickly see the difference, according to Cooper. "Although 7S is just the tip of the Lean iceberg, it is easy for employees to grasp the idea when they experience the visual impact of a work area that has been reorganized using 7S," said Cooper.
Cooper attended the 7S training with four employees. After the first class, participants were assigned homework to reorganize areas using what they learned about 7S. The employees from the office rearranged the supply room and field team applied 7S in an area of the shop. Both teams removed materials and equipment that were seldom used, cleaned surfaces, labeled storage areas and used tape to outline where equipment should be returned after use. "It definitely created a buzz," said Cooper. "Making highly visible changes using 7S planted the seeds and now more people want to get involved."
During the second day of training, participants built robots from Lego bricks in a simulation exercise. "There was one group that was so fast at assembling the robots," said Cooper. "But after we switched teams around to work at different robot assembly stations, other teams could not replicate the fast team's methods. This hands-on activity demonstrated that the most effective manufacturing depends on a process that everyone can easily understand and can replicate to produce high quality goods," said Cooper.
According to Cooper, getting employees onboard with major changes at a company is never easy. "Whenever you try turn an organization in a new direction, there is inertia and resistance," said Cooper. "The training provided by Sierra College CACT is an excellent way to spread information about the intent and potential for Lean at a company. It is well worth the effort. Having Lean systems in place will enable our company to meet the needs of our customers and to grow."
About the Continuous Improvement Network
The Continuous Improvement Network (CIN) is an association of business leaders committed to learning and sharing continuous improvement methods. Founded in 2011 by Northern California employers, the CIN provides tours and training for companies implementing process improvement strategies.
About Sierra College CACT
Sierra College Center for Applied Competitive Technologies (CACT) is focused on Advanced Manufacturing and is funded through the Workforce and Economic Development program of the California Community College Chancellor's Office. Since 1992, the Sierra College CACT has provided customized employee training for organizations, manufacturers and technology businesses throughout Northern California. Additional information is available at http://www.sierracollegetraining.com/ or by contacting Carol Pepper-Kittredge, CACT Director, Sierra College at 916-660-7801.