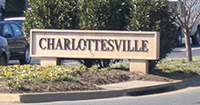 Charlottesville, VA (PRWEB) June 10, 2014
Timmons Group is pleased to announce the renewal of their Professional Engineering Services on-call contract for the City of Charlottesville. As the contract holder since 2011, this is the third time the City has renewed the contract. Timmons Group will continue to provide various on-call survey and civil engineering services for at least the next year.
Sam Saunders, PE, is the principal in Timmons Group's Charlottesville office, and has been working with the company for 20 years. "We are excited to continue our long-standing relationship with the City through this contract. It is our goal to help Charlottesville solve pedestrian safety, environmental and stormwater concerns, and planning needs. We look forward to continuing to provide highly responsive service to the City's staff on these important projects."
To date, a variety of projects have been performed under this contract, including a traffic calming plan for the Market Street Corridor; survey, stormwater and environmental plans for numerous sidewalks throughout the city; and upgrades to the Charlottesville High School stadium that included lighting, parking and access ways.
About Timmons Group
Timmons Group is a multi-disciplined engineering and technology firm recognized for nearly twenty years as one of Engineering News Record's (ENR) Top 500 Design Firms in the country. The firm provides economic development, civil engineering, environmental, GIS/geospatial technology, landscape architecture and surveying services to a diverse client base. Headquartered in Richmond, Virginia, Timmons Group has regional offices throughout Virginia and North Carolina. For more information, visit http://www.timmons.com.