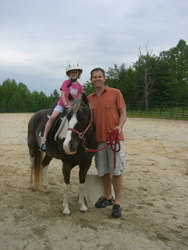 Y-Guides is a fun investment that will have a lasting impact on our relationships for the rest of our lives.
(PRWEB) June 10, 2014
More than a century ago, Sonora Louis Smart Dodd aspired to create a holiday to honor fathers. Dodd, the daughter of a single father and Civil War veteran, was inspired by a Mother's Day sermon and wondered why there was no holiday for fathers. After securing support from ministers in Spokane, Washington, her idea came to fruition with the first Father's Day celebration at the Spokane YMCA on June 19, 1910. Like so many enduring traditions founded at the Y, more than a century later, Americans still celebrate the importance of fatherhood during this holiday.
This Father's Day the YMCA of Greater Charlotte reinforces the impact that fathers and adult male role models make in children's lives. Nationally, one out of three children lives in a home without their biological father, according to the U.S. Census Bureau. And, societal factors such as unemployment, work-life balance or a lack of resources can affect fathers' ability to seek support in strengthening their parenting skills and more fully engaging in the lives of their children. A leading nonprofit in fostering positive youth development, the Y remains dedicated to providing resources and opportunities for fathers to further involve themselves in the well-being and development of their children.
Among the Y's most powerful programs for parents to engage with their children is Y-Guides, a father-child program that strengthens relationships through activities that allow dads to spend more quality time with their children through a structured, year-round program. Y-Guides also creates opportunities for fathers to find support and reassurance among a community of dads.
Research increasingly reveals the importance of continually cultivating the father-child for a healthy youth development. According to a report published by the U.S.
Department of Health and Human Services, fathers' involvement in their children's lives has been shown to have a positive effect on their well-being in many areas including increasing the chances of academic success and reducing the chances of delinquency and substance abuse.
Rich in history and traditions, Y-Guides originated in Charlotte in 1958 with approximately 42 people. Today the program serves more than 2,300.
Dads and kids make memories by participating in groups called tribes that connect 7 to 10 father-child pairs that live in the same area. Y-Guides tribes share in regular, monthly activities including games, crafts, hiking, family cookouts and community service projects. In addition, all tribes come together for annual events such as Princess Date Nights, Parades, Charlotte Checkers Hockey games, horseback riding and weekend campouts.
"When my girls ask immediately after a Y-Guides event, 'How soon is our next meeting, Dad?' I know that they appreciate our time together," said David Head, father of four girls, all in Y-Guides. "In today's busy and technology-filled world, my life is enriched by each and every Y-Guides activity, and we get a patch to commemorate that memory on our program vests. Y-Guides is a fun investment that will have a lasting impact on our relationships for the rest of our lives."
Registration for Y-Guides begins in July, with introductory meetings scheduled in August and September. For program information please contact Karen Credle, Y-Guides Program Director, at (704) 716-6282 or via email Karen.credle@ymcacharlotte.org. You may also visit yguides.org. Financial assistance is available.
About the YMCA of Greater Charlotte
The Y is one of the nation's leading nonprofits strengthening communities through youth development, healthy living and social responsibility. The YMCA of Greater Charlotte, comprised of 19 Y branches and two resident camps, engages approximately 274,000 men, women and children – regardless of age, income or background – to nurture the potential of children and teens, improve the nation's health and well-being, and provide opportunities to give back and support neighbors. Deeply rooted in the community for 140 years, the YMCA of Greater Charlotte has the long-standing relationships and physical presence not just to promise, but to deliver, lasting personal and social change. ymcacharlotte.org