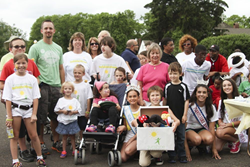 "We are so glad to be a part of this wonderful event and hope to see many in attendance."
(PRWEB) June 11, 2014
Gary Barbera co-sponsors the 12th annual Sunshine Foundation RunWalkBark for dreams is scheduled to bring runners and walkers together to participate in events to help raise funds to answer the dreams seriously ill, physically challenged and abused children. One of the many children we hope to see have their dream answered through the RunWalkBark4Dreams is Kyle. Kyle is 11 years old and suffered an intrauterine stroke that led to cerebral palsy. His grandmother referred him to Sunshine Foundation because he dreams of going to Disney World and the Central Florida attractions. She writes, "Kyle suffered a stroke at birth and his mom has done a wonderful job to help him. Due to the financial and emotional stress of caring for a child with special medical needs, there is never seems to be any income left for luxuries like a special vacation. He is a loving child and never complains although his stroke has left him handicapped."
In addition to the 5K and 2 mile fun run, the RunWalkBark 4 Dreams will feature a mascot dash, music, complimentary food from chick fil A, face painting, raffles and fun for all. There will be awards for all ages and the community is encouraged to come together to make dreams come true. Kyle and other Sunshine Foundation children with their families will be special guests. Sunshine Foundation thanks the numerous local businesses who have signed on to be corporate sponsors. Para athletes are encouraged to participate! The course is a USATF Certified Course with timing by Run the Day. Registration begins at 9:00 am and the 5k kicks off at 10:00 a.m. For more information on the RunWalkBark 4 Dreams or to register visit http://www.sunshinefoundation.org.
About The Sunshine Foundation:
The Sunshine Foundation is a 37 year old organization dedicated to answering the dreams of children who are chronically ill, seriously ill, physically challenged and abused. The original wish granting organization in the United States, the Sunshine Foundation has answered the dreams of 37,000 children since 1976. Of those we serve, more than 44% are at 100% of poverty according to Federal poverty guidelines. Some 82% of every dollar spent goes directly to program services.