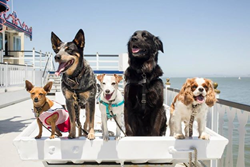 San Francisco, CA (PRWEB) June 10, 2014
Mark your calendars for the 10th annual Dog Day on the Bay cruise on Sunday, June 22, 2014. This year, we will be joined by several special guests: New York Times bestselling author Kelly E. Carter, cartoonist Michael Capozzola, and comedian Philip Witte. Fun activities on board include a raffle featuring prizes for both you and you pet, free massages, caricatures and canine behavioral training. Everyone is encouraged to bring their well-behaved dogs for this charming event that benefits the San Francisco SPCA's Puppy Dog Tales Reading Program.
A gourmet brunch buffet with bottomless sparkling wine and mimosas will accompany the iconic views, and our special guests will be joining in on the fun. Pose while you and your favorite furry friend's caricature is drawn by cartoonist Michael Capozzola and bid on your chance to win a private comedy show for you and your friends from writer and cartoonist Philip Witte. New York Times bestselling author, Kelly E. Carter, will be signing copies of her book "The Dog Lover's Guide to Travel," a fitting topic while on the Hornblower Cruises' San Francisco Belle. To remember the day on the Bay, Alicia from Frame Your Pet will be on board taking photos. This is a family friendly event not to be missed.
Dog Day on the Bay takes pride in being the only dog-friendly cruise in the Bay Area. It also gives back – all proceeds go to Puppy Dog Tales Reading Program (PDT), which is part of the SF SPCA's Animal Assisted Therapy Program. Whether English is a second language or feelings of shyness and anxiousness occur when asked to read out loud, the PDT program aims to promote literacy in at-risk San Francisco children. With the help of SF SPCA therapy dogs and determined volunteers, PDT participants learn to uncover self-confidence and conquer vocabulary and grammar.
PDT has continued to grow since its beginning at the San Francisco Public Library's Chinatown branch in 2007. PDT volunteers and children now read at several sites throughout San Francisco including SF Unified schools and local Boys & Girls Clubs.
Special thanks to this year's Dog Day on the Bay sponsors KOIT-FM, WAG and Wellspring Pets.
Canine guests enjoy complimentary entrance, while tickets are $125 for adults, $112 for seniors, $75 for children ages 4-12, and free for ages 3 and under. Boarding begins at 10am with an 11am yacht departure from Hornblower Landing (Pier 3 on San Francisco's Embarcadero).
To ensure pet safety, SF SPCA veterinarians and dog monitors will cruise with the group, and special netting on the ship's rails protects pups big and small.
For information and reservations, visit dogdayonthebay.com or call 415-788-7020. To learn more about Hornblower's dining, special event and private charter cruises, go to hornblower.com.
Lastly, to make 2014 Dog Day on the Bay fun for everyone, here are a few guidelines:
1. We reserve the right to refuse entry to any dog.
2. Dogs of all sizes and breeds are invited.
3. Waiver forms must be completed before boarding.
4. Your dog must wear a current rabies tag to board. I.D. tags are mandatory.
5. Use good judgment regarding the temperament of your pets so that this event will be enjoyable for everyone. Do not bring your dog if it is unpredictable in crowds, with other dogs, and/or strangers.
6. All dogs MUST be on a leash at all times.
7. Be courteous and responsible.
8. Please pick up after your dog.
9. A veterinarian will be on hand in case of an injury or emergency.
10. If your dog is sensitive to motion (e.g., riding in cars) or gets motion sickness, please do not bring your dog.
11. Please do not bring a dog in heat.
12. Dogs and people only, no other animals.
About the San Francisco SPCA
The San Francisco SPCA is a community-supported, non-profit animal welfare organization dedicated to saving, protecting and providing immediate care for cats and dogs who are homeless, ill or in need of an advocate. The SF SPCA also works long-term to educate the community, reduce the number of unwanted kittens and puppies through spaying and neutering, and improve the quality of life for animals and their human companions.
Support the San Francisco SPCA by adopting, donating, volunteering and becoming a client of the state-of-the-art SF SPCA Veterinary Hospital at the Leanne B. Roberts Animal Care Center. SF SPCA has San Francisco volunteer opportunities to care for shelter dogs and cats, conduct adoption counseling, assist clients and veterinary staff at the Leanne B. Roberts Animal Care Center, provide foster care, help with the Community Cats Program, and enrich the lives of people in the community through animal-assisted therapy.
For more information about San Francisco pet adoption, call the San Francisco SPCA at (415) 522-3500 or visit sfspca.org.