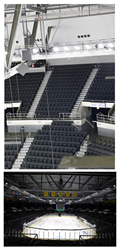 These advanced capabilities bring with them real and immediate savings, less energy consumption and are far better for the environment.
Providence, RI (PRWEB) June 12, 2014
The Dunkin' Donuts Center, one of the region's top events venues has just completed an extensive energy efficiency project in partnership with Providence-based Energy Source LLC. The comprehensive high-tech LED lighting initiative will reduce energy use by 1,749,586 kWh annually, while ensuring that televised events, sports competitions and other performances will always be ready for prime time.
The massive energy reduction project was completed early this year and consisted of a wholesale changeover of the facility's antiquated metal halide fixtures in favor of a vast network of state-of-the-art LED lighting, all managed by the latest Network Based Lighting Control System.
The new set-up drastically reduces energy use and gives the facility's production teams immediate and precise control over the venue's ever-changing lighting requirements, all at the swipe of a mouse.
After a detailed discussion with the customer, Energy Source designed the new system based on the needs in the space. Producing over 300 Footcandles evenly distributed on the ice surface, and giving them easy control of the system while making this a cost effective investment for SMG was a challenging undertaking.
SMG, the company that manages the Dunkin' Donuts Center needed a solution that was flexible and dynamic in order to efficiently accommodate the diversity of events hosted at the 30,000 square foot facility. Which includes everything from all AHL Providence Bruins and Big East Providence College Friars home games, to major concerts and trade shows large and small, while at the same time being exceptionally energy efficient and environmentally beneficial.
"We were confident that our design was the best solution to address their needs with Network Based Lighting Controls used in conjunction with LED lighting." Said Michael Lemoi of Energy Source.
The system design is ideal for venues of this type. In fact, Energy Source will implement a Larger Scale version at the large exhibition hall at Seaport World Trade Center in Boston later this year.
Each fixture can be independently controlled, disabled or dimmed by area or grouped into dozens of programmed "scenes". Operators can go from over 300 Footcandles of light required on the ice for televised hockey games, to light levels you'd expect at a candlelight vigil in an instant. All with the slide of a virtual controller on a computer monitor.
"These advanced capabilities bring with them real and immediate savings, less energy consumption and are far better for the environment." Lemoi said.
In addition to the significant kWh savings, there will be far fewer ongoing maintenance costs. The old style MH lamps needed to be changed out every 2 years, the new LED fixtures have a rated life 6 times greater than the MH lamps.
The removal of the Metal Halide fixtures brought about a significant heat reduction in the space. This reduction enabled the facility to actually reduce its chiller load which significantly increased the kWh savings as a result of the project.