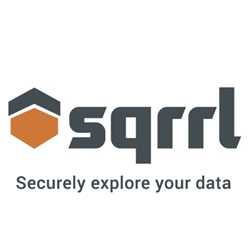 Cambridge, MA (PRWEB) June 11, 2014
Sqrrl, the software company that develops the most flexible, secure, and scalable NoSQL database platform for building real-time Big Data applications, has been selected as one of seven companies to present their innovative technology at the 4th Annual Cross-Agency Defense & Security Emerging Technologies Summit in Washington D.C. on June 13th.
Sqrrl and the other selected companies will present their emerging technologies before senior executives in DoD, DHS, and the Intel Community, as well as prospective industry partners during the 4th Annual Cross-Agency Emerging Tech Summit. There will be Senior Leaders, Operators, & CTOs from government & industry, "Advanced Research" specialists, large prime contractors, venture capitalists, M&A firms, and other potential partners on-hand in order to aid in bringing the emerging technology products to market, and ensure that their operations are sustainable over time.
Sqrrl is a non-relational DBMS solution, which is emerging as an increasingly favorable alternative to the traditional relational databases. Sqrrl builds on the concept of flexible schemas by offering customers the choice of using both graph and document data models, and this additional flexibility translates to more powerful Big Data applications.
In addition to Sqrrl's hybrid data model, Sqrrl Enterprise differs from other non-relational databases by providing data-centric security capabilities. Data-centric security begins with cell-level tagging of individual pieces of data to enable fine-grained access controls, but also includes support for Role Based Access Controls, Attribute Based Access Controls, labeling engines, encryption in motion, encryption at rest, and audit.
Now in its fourth year, the AFCEA DC Emerging Technologies Summit provides for cross-agency dialogue in an ethical public forum between Mil-Gov executives, program managers, technical SMEs, and other interested parties across DoD, the Intel Community, DHS & Civilian Agencies with a heavy security concern.
About Sqrrl
Headquartered in Cambridge, MA, Sqrrl's founders have been working with some of the largest, most complex and most sensitive data sets in the world for the last decade. Today, Sqrrl Enterprise is the world's most secure, scalable, and flexible NoSQL database for real-time Big Data applications (aka "Big Apps"). It is the only NoSQL solution that possesses fine-grained security controls, scales elastically to tens of petabytes of data, natively integrates with Hadoop, and supports a diverse set of search and query capabilities, including graph, aggregations, and full-text search. Sqrrl's understanding of security and Big Data technologies enables organizations to securely unlock the potential of Big Data. Learn more at http://www.sqrrl.com.
All selections of presenting companies were made at the sole discretion of AFCEA DC and the selection committee of leaders they have assembled from Industry, Government and Academia. For more information, please visit EmergingTechnologiesSummit.com.