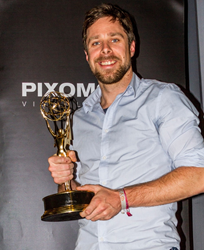 (PRWEB) June 10, 2014
Although you may never have met Christoph Roth, chances are his work has touched your life, transporting you to another place or time.
As senior producer for an internationally renowned company that produces visual effects for feature films, television and commercials, "magic" is all in a day's work for Roth.
"We can create anything with the computer," says Roth. "Dinosaurs, Dragons, space ships, ghosts, entire cities—whatever you can imagine, we can create it for a TV show or film."
Winner of an Emmy award for "special visual effects" on Game of Thrones, Roth's work is a rare blend of aesthetic and "people" skills.
"I love working with really creative and highly skilled artists and coming up with solutions to problems. In the middle of a project, it can seem like everything is against you—you run out of money, you have to do it over again for the sixth time, everyone is getting frantic. The producer is the guy who has to stay calm and upbeat and make it all happen. That's my job."
A Scientologist since 2000, Roth has continuously studied and used the subject.
"The more you learn and understand about Scientology, the bigger the gains," he says.
Watch Christoph Roth's "Meet a Scientologist" video on http://www.Scientology.org or the YouTube Scientology video channel.
The popular "Meet a Scientologist" profiles on the Church of Scientology International Video Channel at Scientology.org now total more than 200 broadcast-quality documentary videos featuring Scientologists from diverse locations and walks of life. The personal stories are told by Scientologists who are educators, teenagers, skydivers, a golf instructor, a hip-hop dancer, IT manager, stunt pilot, mothers, fathers, dentists, photographers, actors, musicians, fashion designers, engineers, students, business owners and more.
A digital pioneer and leader in the online religious community, in April 2008 the Church of Scientology became the first major religion to launch its own official YouTube Video Channel, with videos now viewed more than 11.7 million times.