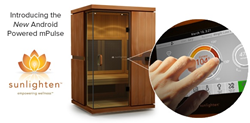 Overland Park, KS (PRWEB) August 26, 2014
Sunlighten™ is proud to manufacture the world's 1st and only line of smart saunas to offer full spectrum (near, mid and far) infrared technology powered by an Android application that can customize each sauna session for the desired health benefit.
The revolutionary mPulse® series features the world's only controllable full spectrum infrared heater – Solocarbon® Full Spectrum. Using the Android control panel, users can control the setting ranging from near infrared light which aids in pain and muscle relief, to mid infrared light which assists in fat burning and weight loss, to far infrared light that deepens the core sweat and is whole-body detoxifying.
The Android control panel is a new addition to the mPulse line that gives users more capabilities including easy touch dials to adjust heater settings, interactive preset wellness programs and health tracking that wirelessly captures biofeedback such as heart rate and calories burned. The Android control panel can also be updated via WiFi or USB drive so users always have the latest technology. Future updates include a commercial feature that allows businesses to control the sauna from web browser or smart phone.
Sunlighten offers an exclusive online wellness community using biofeedback tools that allow users to track heart rate and calories burned during each sauna session and wirelessly send data from the Android app to a personal wellness website – mySunlighten.com. Designed to help Sunlighten customers achieve their wellness goals with daily guidance, the wellness website allows users to track sauna sessions and cardiovascular activity, connect with other Sunlighten users, follow fitness plans with easy how-to-videos, plan meals and get nutrition advice and access free advice from Sunlighten wellness coaches.
The health and longevity benefits of Sunlighten saunas have been showcased by Dr. Oz on The Oprah Winfrey Show and The Dr. Oz Show. Dr. Oz spoke specifically about the assistance infrared therapy provides in burning calories via increased circulation, in detoxifying through a more comfortable sweat, and in reducing blood pressure.
Highly active in its community, Sunlighten partners with the American Heart Association and National Autism Association. Aaron Zack, President/CEO of Sunlighten notes, "What I love most about our company is that we are helping individuals every single day...and that is a very gratifying feeling."
About Sunlighten
Founded in 1999, Sunlighten (formerly Sunlight Saunas) offers innovative wellness products that bolster individuals' health & vitality through technology. Sunlighten's Signature line of infrared saunas helps detoxify the body & provide pain relief, and has been clinically shown to aid in weight loss & reduce blood pressure. For more information, visit http://www.Sunlighten.com.