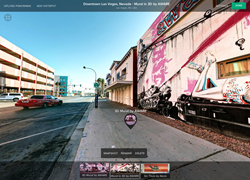 Palo Alto, California (PRWEB) June 17, 2014
RoundMe, a service and community dedicated to professional panoramic photographers and panoramic photography enthusiasts, announced today its free online web application. RoundMe is the first and only web application that allows anyone to create panoramic virtual tours for free.
RoundMe allows users to create Spaces – sets of panoramic images connected through portals and fill with any multimedia content such as videos, photos, text and links. Users can also communicate with each other, share and embed content on social media and websites, making it an all-in-one destination to explore the world through panoramic photographs.
"RoundMe gives you the opportunity to make your own special, virtual world," said Konstantin Andreev, Founder and CEO of Verdom IT Projects, RoundMe's parent company. "With RoundMe, you can travel virtually all over the world in one click. Imagine a person in San Francisco seeing the breathtaking views of Barcelona, and someone in Moscow taking in the lights of Rio at night – and with the RoundMe community, it's completely free."
RoundMe was first created specifically for real estate brokers – using the service, their clients would be able to view and interact with real estate listings from anywhere. Quickly, the mission expanded globally with the purpose of covering the world with panoramic images, making every corner of the world assessable for any RoundMe user. In addition, RoundMe is completely social and interactive with the user community and the panoramic images themselves.
"RoundMe is perfect for professional panoramic photographers as well as for the average Joe," Andreev said. "We want people to see and experience a place anywhere in the world. We want to give people the opportunity to use a very powerful and easy-to-use tool for creating Spaces and posting additional content, so the world around them is now more interesting and interactive."
For more information and to sign up for RoundMe, visit http://www.round.me/.
About RoundMe
Developed by Verdom IT Projects, RoundMe is a software-as-a-service that allows users to create panoramic images called Spaces – from advanced photographic gear such as DSLRs to the camera on your mobile device – quickly and efficiently. With the simple, easy-to-use platform, showrooms display 360-degree views, travelers capture the splendor of natural wonders, and businesses show properties and space with multimedia content. Members of the RoundMe community enjoy thousands of stunning, high-quality panoramic photos created by other people from anywhere in the world. RoundMe can be found at http://www.round.me/.