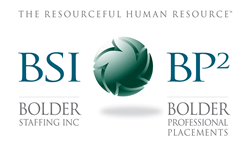 Broomfield, Colorado (PRWEB) June 12, 2014
Summer is almost here and that means many businesses are hiring for the summer tourism boom. It's the perfect time to find a new career, and millions of Americans will be looking for jobs this summer, whether they're teens who are trying to find that perfect summer job or adults who are switching careers or re-entering the workforce. To help new and experienced career seekers, Bolder Staffing, Inc. is offering a few summer job search tips.
1. Always tailor your resume to the position for which you're applying. Different positions require different skills and strengths. Update your resume to emphasize the skills and abilities that you have that are relevant for the position.
2. Use strong keywords in your resume. Include specific software, tools, knowledge, skills, abilities that are relevant to your industry and the position for which you're applying. Your resume is likely to go into an applicant tracking system database where recruiters will search resumes by keyword!
3. Make your resume easy and quick to read. Use bullet points instead of paragraphs. List your experience first unless you're a recent college grad; list your education first if that's the case. Experience and education should be in chronological order with the most recent experience first.
4. Use strong action verbs. Avoid the passive voice with verbs like "would," "was," are," etc.
5. Don't include personal information in your resume. Keep it professional.
6. Omit the objective from your resume and put your objective in your cover letter instead, unless you are unable to submit a cover letter. In a cover letter you'll have more space to elaborate on what you want, why you're a fit, and it will give you an opportunity to express your excitement for the position! Omitting the objective from your resume will also give you more resume space.
Bolder Staffing, Inc. has years of experience helping qualified employees find the perfect position. For additional job search resources, visit http://bsihires.com.
About Bolder Staffing, Inc.
Bolder Staffing, Inc. (http://bsihires.com) is the region's job-market expert. When it comes to finding qualified temp, temp-to-hire, contract and direct-hire employees in all industries no one is better. Serving the Front Range including Denver and Boulder, Bolder Staffing, Inc. possesses an incredibly strong base of qualified people who are ready to work when and where you need them. For employees, we offer competitive salaries and great benefits including paid vacations, holidays, incentive bonuses, continued training, and career services.