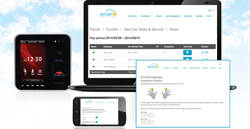 We continue to demonstrate to our dealer customers that automating time and attendance data capture drives efficiency and profits back to the dealership.
(PRWEB) June 11, 2014
Leading identity management solutions provider Actual iD has just announced a new cloud-based time and attendance solution that promises to streamline operations and reduce costs for automotive dealerships and dealer groups. The new software-as-a-service (SaaS) gives owners, dealer groups, department managers, payroll administrators and employees easy to use, easy to manage, centralized and customizable time and attendance functionality and reporting. And the mobile-friendly cloud solution lets users stay connected through any web-enabled device – the browser-based solution supports any screen size.
"We continue to demonstrate to our dealer customers that automating time and attendance data capture drives efficiency and profits back to the dealership," said Jeff Crews, Actual iD President. "Our new solution combines all the benefits associated with a cloud offering with employees' true identity - achieved through using the world's #1 biometric technology offered by Suprema. Actual iD's focus is to deliver innovative solutions targeted specifically at dealerships to address their common pain points."
Dealer iD, the cloud-based solution, will make it easier for dealerships to manage scheduling, overtime and daily shift exceptions, state and province-level compliance, and providing alerts through real-time staff visibility. Dealerships today rely on Actual iD to track busy parts and service departments, shuttle and valet services, reception, administration, sales, and manage employees in a single building or across multiple locations in a dealer group.
Biometric identification like fingerprints can't be shared, lost or stolen. The Dealer iD system identifies employees based on their 'true identity,' eliminating the need for non-secure punch cards, PINs or other third-party credentials.
The benefits are significant:

Easy activation and use through simple intuitive design
Quick biometric enrollment accessible through mobile devices
Cloud-based architecture delivers secure remote access and requires no local server
Mobile-friendly
Real-time, customized alerts and notifications makes day-to-day management of business easier
Role-based views provide a customized dashboard tailored to every employee in the dealership
Actual iD's Dealer Identity Management System, Dealer iD, is specifically designed for dealerships. It enables dealerships to manage both hourly and salaried employees with little to no maintenance.
Dealer iD includes:

Fingerscan Time Clock, the #1 performing biometric clocks in the world.
Cloud-based time and attendance software that can be used with computers, tablets and smartphones, and offers easy access to future software updates.
Go Live start-up activation service to get you up and running fast.
Live technical support that is available 12 hours a day, every day.
Customer health checks that offer proactive regular monitoring to ensure all employees are getting maximum benefit.
It's the ideal solution for a dealership or dealer group seeking to increase efficiency, decrease loss due to time theft and fraud – and direct profits back into their business, where they belong.
Auto dealerships can try the new cloud now through a free 30-day trial. To request a trial, visit http://www.actualid.com/buy-now/cloud-30-day-trial.aspx.
-30-
About Actual iD
Actual iD builds easy-to-use time and attendance solutions for business owners, allowing them to manage the "true identity" of people and eliminate the management of approximation technologies such as punch cards, time clocks or PINs. The Actual iD team is focused on solving the unique challenges of business owners managing multiple (2 to 100) locations, delivering a measurable ROI at a reasonable monthly cost. The Fingerscan time clock solution is connected to the world's highest performing biometric clocks, and is activated for customers centrally for a national network of locations. For more information, visit http://www.actualid.com.
Any product names, logos, brands, and other trademarks featured or referred to above are the property of their respective trademark holders.
For further details please contact:
Linda Wu
Director of Marketing
Actual iD
Phone: 1-855-6ACTUAL | 1-855-622-8825
Email: info(at)actualid(dot)com