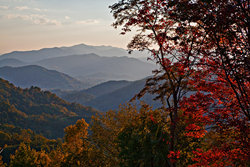 Music and Art Festivals in the Best Mountain Towns
Asheville, NC (PRWEB) June 11, 2014
Summertime in downtown Waynesville is an exciting time of year in one of the best mountain towns in North Carolina along the edge of the Blue Ridge Parkway. Weekly festivals celebrating song, dance and what life is like living in the mountains dominate the region. Residents and tourists hungry to experience mountain living have the opportunity to indulge in customary food, music and dance near popular gated mountain communities.
On Saturday, June 14th the Appalachian Lifestyle Celebration returns for the fourth year and is a Waynesville Festival that really embraces all aspects of a mountain living era. Demonstrations of basket weaving, quilt making, pottery, painting, soap making, blacksmithing, storytelling, local artists and musicians; traditional food like BBQ, smoked sausage, homemade ice cream, fried apple pie, kettle corn, baked goods and nuts are served in customary fashions.
Here is a list of the blue grass bands planning to grace the stage:
Michael Reno Harrell
Darren Nicholson Band
E.T.S.U. Dirt Band
The Ross Brothers
J Creek Cloggers
Fines Creek Flatfooters
Radio Hill Jam Group
Michael Pilgrim
Anne Lough
Productive Paranoia
Bob Plott & The Plott Hounds
Lynn Collins, executive director of the Haywood County Tourism Development Authority said it best in years passed, "The Appalachian Lifestyle Celebration is great for tourists. It gives our visitors a taste of what mountain living is like, along with its rich history. When people travel to Haywood County, or anywhere, they want to experience the culture of the destination before they plant permanent roots."
Nothing expresses mountain life quite like the Appalachian Lifestyle Celebration! Bring the family bring the friends because summer in Waynesville 2014 is a great time for vacation and a great time to explore surrounding neighborhoods perfect for a primary or secondary home in the mountains.
Scenic mountain neighborhoods like those found at Sunset Falls at Bald Creek surround downtown Waynesville making it easy to enjoy downtown festivities. Located only 20 minutes northeast of Waynesville in Crabtree, NC, this gated western North Carolina mountain community is 300 acres nestled among the Blue Ridge Mountains and is a great location for keeping up with an active mountain lifestyle! Cascading waterfalls, long range layered mountain views and friendly neighbors make this private community a superb place to live.
Take a peek at Sunset Falls at Bald Creek homes
There is always something during summertime near Sunset Falls at Bald Creek. The first Friday of every month from May until December, Art after Dark is a great way to spend summer nights in one of the best mountain towns in North Carolina. Peruse through art galleries located downtown that stay open until 9pm to showcase demos, artist receptions and music for the whole town to enjoy. Discover new artist whose latest piece will fit right in with your new home décor. Perhaps you prefer some dancing in the street; beginning June 27th through August 8th, held every other Friday night is the Mountain Street Dances. The Waynesville Festival features Whitewater Bluegrass and the Dixie Darlins Clogging team for some downhome mountain dancing from 6:30p- 9:00p right on Main Street. What a great way to wind down after a day of hiking or fishing.
Here's more Waynesville festivals coming soon:
July 4th Stars and Stripes: 11:00a- 3:00p; dancing and music
July 19th Art Fest: 10:00a- 5:00p; daylong event with music, dance, crafts and food from around the world
July 26th Folkmoot USA Parade of Nations: Dancing and art from many nations
August 29th-30th 43rd Annual Smokey Mountain Folk Festival: 5:00p; two evenings of folk music
August 30th Rockin Block Party: 7:00p; parts of Main Street closes and local restaurants and music come alive!
Downtown Waynesville offers a myriad of ways to enjoy life among the Blue Ridge Mountains, but the fun doesn't stop there. The gated western North Carolina mountain community of Sunset Falls at Bald Creek has hiking trails, waterfalls and views of mountain ridges that exceed 6,000 feet above sea level. Head home from a Waynesville Festival and get greeted by mountaintops that peak through orange skies at sunset. Whether you camp, fish, or simply love to take a scenic stroll at dusk, however you enjoy the breathtaking panoramic views, this private community has a place that will make your home life complete. Home sites range from a modest $70k to $220k, offer one to seven acres of land and begin at 3,200 to 4,200 feet above sea level. The architectural design of these natural element homes fits in beautifully with the surrounding terrain, displaying open decks that showcase all that the Blue Ridge Mountains have to offer.
About Real Estate Scorecard:
Real Estate Scorecard writes unbiased real estate reviews providing in-depth information about popular gated communities in Florida, Georgia, North Carolina, South Carolina and Tennessee, all in an effort to help people discover where to retire in the Southeast.
Website: http://realestatescorecard.com