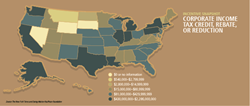 Kansas City, MO (PRWEB) June 11, 2014
State tax incentives – often used to attract or retain existing businesses – aren't always the best way to stimulate economic growth. According to a new Entrepreneurship Policy Digest released today by the Kauffman Foundation, these programs, while sometimes economically justified, often overlook the businesses that create most new jobs – namely, new companies. The Policy Digest offers alternative strategies for states to either improve their existing incentive programs or boost job creation by fostering firm formation.
"States spend tens of billions of dollars each year trying to entice businesses to locate within their borders, but these policies often miss the real job creators: new and young businesses," said Jason Wiens, policy engagement manager at the Kauffman Foundation. "Alternative economic development strategies exist that focus on entrepreneurial growth without incurring costly tax incentives."
Culling ideas from Kauffman research and those developed at a recent Kauffman Foundation conference on state incentive programs, the Policy Digest offers the following strategies for how states can better foster entrepreneurship:
Reexamine Licensing

Revisit requirements for professional and occupational licensing to spur entrepreneurial competition and new business creation.
Welcome Immigrants

Create a welcome atmosphere for immigrants, who were significantly more likely than native-born workers to start businesses in 2013.
Stress Human Capital and Resource Awareness

Focus on education to boost entrepreneurial activity and the creation of new businesses.
College graduates with degrees in various disciplines, including the arts, are likely to contribute to business creation.
Connect Entrepreneurs with Resources

Regions are strengthened when entrepreneurs connect with one another. Entrepreneurship support programs should facilitate network formation, peer learning and mentorships.
Different types of entrepreneurs require different resources. Consider gaps in the local entrepreneurship community and how various programs can be connected to each other.
The Kauffman Foundation's Policy Digests consist of summaries of findings around relevant policy issues that will inform and educate policymakers. To read the entire Policy Digest on state incentives and to sign up to receive subsequent Digests, go to http://www.kauffman.org/policydigest.
About the Kauffman Foundation
The Ewing Marion Kauffman Foundation is a private, nonpartisan foundation that aims to foster economic independence by advancing educational achievement and entrepreneurial success. Founded by late entrepreneur and philanthropist Ewing Marion Kauffman, the Foundation is based in Kansas City, Mo., and has approximately $2 billion in assets. For more information, visit http://www.kauffman.org, and follow the Foundation on http://www.twitter.com/kauffmanfdn and http://www.facebook.com/kauffmanfdn.