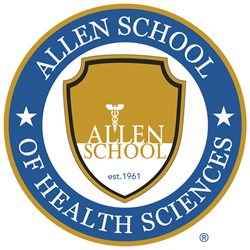 (PRWEB) June 11, 2014
The Allen School of Health Sciences is very excited to offer its first degree program in Medical Insurance Billing and Coding. The Associates of Applied Science in Medical Billing and Coding is designed to offer students the full range of classes needed to be successful in a wide variety of healthcare environments. Students who have already completed our diploma program will gain further skills to help advance their careers while students just beginning their studies in Medical Insurance Billing and Coding will enjoy a robust curriculum designed to place them in many different clinical settings. This program is offered in a unique online, fully interactive classroom which you will only find at the Allen School of Health Sciences.
Program Manager Sharon Anton recently shared her views on the new degree program.
"The MIBC Degree Program offers online learning that is convenient and flexible and gives students an essential diverse set of skills and knowledge to be used in their careers as a Billers and Coders. They become proficient in the field of coding and translating the words into the codes essential in accurate record keeping and billing. This field offers a great opportunity for careers and advancements due needs of the baby boomers and greater healthcare concerns."
The EDUCATE Values and core beliefs of the institution have been built into every aspect of this program, including students services and lifetime career services assistance to help students find the success they have come to expect from the Allen School of Health Sciences.
About the Allen School of Health Sciences
Allen School of Health Sciences was established in 1961 and has trained over 70,000 medical professionals. It is accredited by the Council on Occupational Education (COE). You can learn more about becoming a Medical Assistant, Nursing Assistant or Medical Billing & Coding professional by visiting http://www.allenschool.edu or by calling 1-888-620-6745.