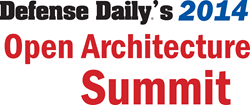 OA Forum was established to give people a convenient place to highlight and share their work and perspectives on open architecture that may be of interest to others. - Mike McCarthy, a Defense Daily reporter & co-chair of the Open Architecture Summit
Rockville, MD (PRWEB) June 12, 2014
Defense Daily's annual Open Architecture Summit has created a new online "gathering place" for members of the open architecture defense community to post and discuss the latest issues, news, initiatives and studies surrounding this rapidly growing area.
Recently launched and available to government, industry, academia and others in the open architecture field, OA Forum is the premier online hub for the latest work, presentations and ideas about the role of open architecture in national security acquisition.
OA Forum allows for the posting of white papers, presentations, news releases, technical studies or other material related to open architecture while facilitating commentary and discussion.
Defense Daily's Open Architecture Summit is a venue for top military, government, industry and academic leaders to highlight the increasing importance of open architecture in acquisition. Past topics include implementing open architecture standards and practices, reducing lifecycle costs, controlling data rights and enabling rapid technology refresh. This year's Summit, the seventh annual event, takes place Nov. 4 in Washington D.C. The OA Summit is a chance for attendees to hear from senior government and military leaders, network with experts on the subject, stay on top of government trends in acquisition and pursue new business opportunities.
For more information about the 2014 Open Architecture Summit and to register, visit http://www.openarchitecturesummit.com. Sign up early and save up to $100. Special rates are available for government and military officials and academia.
About Defense Daily
For more than 50 years, Defense Daily® has been the leading daily publication for business leads and defense market intelligence in land, sea, air, and space. We're delivering our award winning reporting to 35,000 unique users monthly. Learn about business opportunities in aircraft, naval ships and systems, C4ISR, future combat systems, information and electronic warfare, homeland defense, land warfare, net centric warfare, space and satellites, and unmanned systems. With offices in the Pentagon and on Capitol Hill, you'll get the latest information regarding the congressional budgeting process, contract awards, newest technologies, emerging market trends and key industry developments, and international trends and foreign military sales.