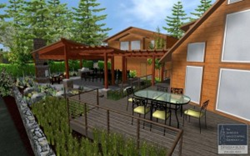 "I love watching clients' expressions when they realize that 'this will be our home' or 'this is what our outdoor kitchen will be." - Ben Middlemiss
Seattle, WA (PRWEB) July 10, 2014
London Design Build, an industry leading developer of custom homes and outdoor living spaces in Washington State, has today introduced new 3D modeling techniques to help ensure clients see exactly what they're getting, before the first nail is driven.
"Every project matters to us," said Ben Middlemiss of London Design Build when asked about the new 3D modeling service. "We're proud to throw the full weight of our team into every project we undertake. The new 3D modeling service is the ideal way to bring the ideas and inspiration captured during our initial consultation with clients into a three-dimensional, visible format and let our clients explore the world we'll help them create."
London Design Build begins its client relationships with an in-depth consultation on what the client hopes to achieve in terms of design, architecture and landscaping. From that point, the new 3D software takes over. The ideas and plans discussed during the initial consultation are put into the company's software and rendered into a three-dimensional image of the finished project.
From that point, the company lets clients explore the 3D model completely, exploring every point within the proposed plan. Based on feedback given during this portion, adjustments and tweaks are made to fine tune the project and ensure that clients know exactly what the finished project will look and feel like.
"It's an incredible thing to see and almost feel what a finished project will be like," added Middlemiss. "I love watching clients' expressions when they realize that 'this will be our home' or 'this is what our outdoor kitchen will be."
The new 3D rendering service is available with all of London Design Build's services, including home design and renovation, as well as outdoor design and landscaping.
To learn more about London Design Build's new 3D rendering service, or the company's full range of design and build services, visit http://www.londondb.com
About London Design Build: London Design Build strives to provide outstanding design for client environments. The company understands that a deck is never just a deck, nor is a patio just a patio. Perfect and complimentary integration is vital.