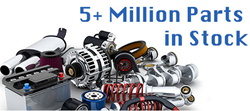 (PRWEB) June 18, 2014
AutoPartsWAY.ca announces the release of its spring catalog, which adds 22 new brands to expand consumer choices. Whether you need car parts or truck parts, AutoPartsWAY.ca strives to offer the largest collection and the most competitive pricing. All inventory for sale has passed rigorous Canadian DOT testing.
AutoPartsWAY.ca stocks brake components, drivetrain, emissions, exhaust, engine components, heating and air conditioning, ignition, lighting and electrical, steering, suspension, tire, tools, automatic transmission, manual transmission, wheel and wiper parts for all types of new and old Canadian trucks, cars, SUVs and cars. The expanded inventory gives customers even greater options when it comes to finding the auto parts they need at an affordable price.
AutoPartsWAY.ca accepts orders via secured website or over the phone. An all-North American customer support team ensures that customers are always speaking to a Canadian representative who is familiar with the large stock of OEM inventory carried and dedicated to providing the highest level of customer service. A Canadian-based web team provides website customer support, and a secure sockets layer (SSL) encryption ensures that all web-based transactions are safe.
The largest automotive online superstore in Canada, AutoPartsWAY.ca offers OEM auto parts at up to 80 percent off dealer prices. AutoPartsWAY.ca has the largest selection of auto parts in Canada, and is able to ship most orders within 24-48 hours using standard ground shipping. All orders receive either free or discounted shipping. With warehouses throughout the provinces, AutoPartsWAY.ca ensures a fast delivery of your order. From the to the extensive catalog collection, find out why Canadian consumers love AutoPartsWAY.ca. To learn more about the inventory available for sale or to purchase inventory over their a secure website, visit http://www.autopartsway.ca.