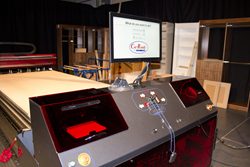 It's like a vending machine for cabinets but even better...it actually knows how to make cabinets.
Dale, Indiana (PRWEB) June 18, 2014
Thermwood, a major supplier of CNC routers to the cabinet industry, has introduced a revolutionary new type of machine for making custom cabinets. This new machine is NOT a CNC router, it is a "cut center". Specifically, a "Cut Ready" Cut Center. So, what is different about a "Cut Ready - Cut Center"?
It works differently and is aimed at a different market. Today's nested based CNC router systems are comprised of three elements, a fairly capable PC computer to run design software, cabinet design software to design products and create CNC programs and a CNC machine to execute those programs. It requires a fairly high level of technical training and skill to program and operate. Thermwood believes that there are a substantial number of cabinet shops that do not possess the technical and programming skills (nor the desire to develop these skills), so Cut Ready - Cut Center was designed for this market.
A cut center is a single element system, the machine itself, and does not require programming. That's right, there is no programming… at all…none… EVER! No computer, no software… it's all in the machine. The operator just tells the machine what to make, and it makes it. It's like a vending machine for cabinets, but even better…it actually knows how to make cabinets.
Thermwood's cut center is capable of making custom kitchen cabinets in just about any way possible, face frame or frameless, one or two sided material, attached or detached toe kick and a couple of different assembly methods. Just specify how to make it and the machine will display all the cabinet configurations made that way. Select the desired configuration, adjust the size and it cuts the parts for that cabinet. In addition to kitchen cabinets it also makes closet cabinets, bath cabinets, utility cabinets and some furniture items like shelves, entertainment walls and table tops, and much more.
It also makes drawers. Side mount or undermount, dovetail or blind dado, slide–in bottom of full thickness captured bottom. Once the machine has cut some cabinets, the operator next tells it to make drawers for those cabinets and the machine takes care of everything else. The Cut Center can also make individual drawers by specifying the type and size.
It also makes doors and drawer fronts. Slab doors are grain matched so the wood grain flows smoothly across the front of the cabinet. There are also over 450 MDF door and drawer front designs, square, arch, cathedral, applied molding and slab in both raised panel and recessed panel styles. These are high-quality designs with profiles similar to high-end five piece wood doors. They are all produced using standard tooling and a reverse 3D printing process where, instead or adding a small amount of material each pass, a small amount is removed. Just like drawers, the operator tells it to make doors and drawer fronts for a cabinet job and it makes them. If doors are used as applied ends, it makes them too.
It also makes moldings. There are hundreds of molding profiles to choose from and the size of each can be adjusted for exact requirements. Moldings can be either straight or arched. There are even some fancy carved moldings. The operator simply tells the machine what to make and the machine marks the table showing where to place the wood blank and, using the same reverse 3D printing technique, it makes the molding. It's just that easy.
And, talking about easy, running the cut center is really easy. The machine handles tooling automatically. It handles vacuum part hold down and spoilboard maintenance and resurfacing automatically. It monitors routine maintenance automatically. The operator simply follows directions and can even use a "Show Me" button in each area to play a video showing exactly what to. If that doesn't help, the operator can call up a real live technician on the control screen and ask for assistance. The Cut Ready - Cut Center is designed for folks with no real technical background. All that is required is the ability to read the on-screen instructions.
Thermwood has been developing the substantial technology behind the cut center for over five years and has applied for, and received numerous patents on its unique approach and features. Thermwood intends to continue expanding products the cut center can make, guided by users. These will be available, on an ongoing basis as a free download to all existing Cut Ready - Cut Centers. System software updates will also be available on the same basis as well as is the virtual service described above. All free as long as the machine is owned.
The new Cut Center is an IWF Challengers Award Finalist and can be viewed at the upcoming IWF show in Atlanta this August 20-23, Booth #5513. If you would like an online or live demonstration of the Cut Center please contact the sales department at Thermwood Corporation located in Southern Indiana.