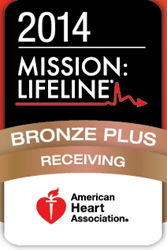 Abington, PA (PRWEB) July 09, 2014
Each year in the United States, approximately 300,000 people have a heart attack caused by a complete blockage of blood flow to the heart that requires timely treatment. To prevent death, it's critical to immediately restore blood flow, either by surgically opening the blocked vessel or by giving clot-busting medication.
"We commend Abington Memorial Hospital for this achievement award, which reflects a significant institutional commitment to improve the quality of care for their heart attack patients," said A. Gray Ellrodt, MD, chair of the Mission: Lifeline committee. "All too many heart attack patients in the United States still fail to receive appropriate treatment for their life-threatening condition within the recommended timeframes. We must all continue this important work to streamline and coordinate regional systems of care to save lives and prevent complications."
Abington Memorial Hospital earned the award by meeting specific criteria and standards of performance for quickly and appropriately opening the blocked artery. Before patients are discharged, they are started on aggressive risk reduction therapies such as cholesterol-lowering drugs, aspirin, ACE inhibitors, and beta-blockers, and they receive smoking cessation counseling if needed. Eligible hospitals must adhere to these measures at a set level for a designated period to receive the awards.
"Abington Memorial Hospital is dedicated to improving the quality of care for our patients who suffer a heart attack, and the American Heart Association's Mission: Lifeline program is helping us accomplish that goal through internationally respected clinical guidelines," said Robert Watson, MD, chief, Cardiology Division and co-director, Comprehensive Heart Failure Program. "We are pleased to be recognized for our dedication and achievements in cardiac care, and I am very proud of our team."
About Abington Memorial Hospital:
Abington Memorial Hospital is a 665-bed, acute care teaching hospital with a medical staff of more than 1,100 physicians and more than 5,600 employees. These professionals provide medical care and health services to residents of Bucks, Montgomery, and Philadelphia counties. A regional provider, Abington Memorial Hospital has the only Level II accredited trauma center in Montgomery County, and offers highly specialized services in cardiac care, cancer care, neurosciences, orthopaedics, home health, and maternal/child health.
About Mission: Lifeline:
The American Heart Association's Mission: Lifeline program helps hospitals and emergency medical services develop systems of care that follow proven standards and procedures for STEMI patients. The program works by mobilizing teams across the continuum of care to implement American Heart Association/American College of Cardiology Foundation clinical treatment guidelines. For more information, visit heart.org/missionlifeline and heart.org/quality.