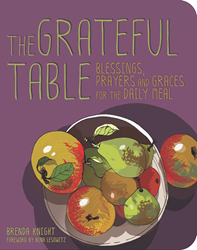 "Knight has lit the path of gratitude and spurred us to make this important spiritual practice the center of our lives."—Spirituality and Practice
(PRWEB) June 11, 2014
Brenda Knight's The Grateful Table: Blessings, Prayers and Graces for the Daily Meal is featured on Beliefnet. The article spotlights quotes that inspire gratitude, and opens by saying "The Grateful Table shows us the way to begin every meal with an open heart for every day of the year."
A quote from May Manin Morrissey beautifully remarked that "true abundance is not about gathering more things, it's about touching the place in us that is connected to the divine source of abundance." The quotes range from Christian and Buddhist prayers to commentary from rapper Tupak. The book is certainly "not your grandmother's book of graces," but she'll like it too.
What People Are Saying about The Grateful Table (also in audio):
"Knight has lit the path of gratitude and spurred us to make this important spiritual practice the center of our lives. The quotations, exercises, and inspirational passages reveal the author's deep understanding of the bounties of spirituality put into our relationships, activities, and rituals."
—Spirituality and Practice
"A sweet little book full of inspirational 'blessings, prayers, and graces for the daily meal.'"
—Eco Child's Play
Compiled by the editor of and collaborator on the runaway bestseller Attitudes of Gratitude, Brenda Knight has employed the practice of gratitude for years. Growing up, much of her extended family lived on nearby farms in West Virginia, and her upbringing taught her to be grateful for the little things in life. She takes great pride in her family tradition of growing their own food and making their own clothes—D.I.Y. before it was fashionable. She also learned from her mother that you only get what you give. For this reason, she will be donating a portion of her proceeds to Building Opportunities for Self-Sufficiency (BOSS), which operates a network of housing and support services in Berkeley, Hayward, and Oakland, California.
Brenda Knight is a publisher and editor who writes about women's history and issues affecting women's lives today. The author of Sheroes, The Poetry Oracle, Wild Women and Books, and the American Book Award-winning Women of the Beat Generation, Brenda also does volunteer work with women newly diagnosed with breast cancer. Brenda believes everyone does have the inalienable right to the pursuit of happiness and lives in one of the happiest places on earth, the San Francisco Bay Area.