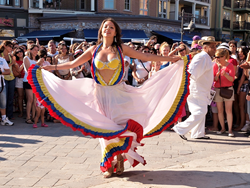 We've made sure that, once the skiing and boarding equipment is put in the shed, there's still a lot to do at Blue Mountain. - Patti Kendall, Director of Marketing & Events
The Blue Mountains, Ontario (PRWEB) June 12, 2014
Now that the snow has finally melted, it's time for Blue Mountain Village, southern Ontario's premiere four-season resort, to bring on summer with an impressive schedule of unique events and award-winning festivals to take you straight through to Fall. From music to theatre to outdoor adventure, the Village's diverse slate of experiences is transforming from ski hill to summer Festivals. Some favourite festivals and events include:
MetCon Blue, June 14. A Pride Toronto Affiliate event featuring a 5km, 10km race around the mountain packed with adventure obstacles.
Salsa at Blue, June 20-22. This award-winning festival celebrating Latin life through music, dance and food returns to the Village for its 6th year. Since 2009 this Festival has been recognized as an Ontario top 100 Festivals and it was recognized in 2008 as Best New Ontario Festival.
Jazz on the Mountain, July 4-6. The spectacular second edition of Jazz On The Mountain At Blue includes headliners Canadian singer Gino Vannelli, classic r&b legends The Commodores and contemporary jazz sensations Yellowjackets. With 30 performances and close to 100 performers this Festival is looking to capture the attention of Toronto Jazz lovers.
Northface Endurance Challenge, July 12-13. Featuring the most pronounced elevation gain trail race in Ontario, this challenge cruises along the Niagara Escarpment on the western shores of Georgian Bay and through the ski trails of the Blue Mountains. Distances range from 5K to 50miles.
Famarama, July 19-20. A children's festival featuring Juno Award winning entertainer Fred Penner. Penner is one of Canada's most beloved children's entertainers.
20th Collingwood Elvis Festival at Blue. July 25-27. The world comes to Collingwood to celebrate "The King". This 5-day event is now regarded as the largest Elvis Festival in the world.
Centurion Cycling Canada. September 12-14. Founded by Graham Fraser, the creator of Ironman, the Centurion is now attracting close to 4,000 cyclists. Racers race and riders ride is the motto for the 25mile, 50mile and 100mile event with an exciting hill climb and Village criterion through the cobblestone paths winding through the 40 shops & restaurants.
About the Village:
Between the foot of the Niagara Escarpment's scenic Blue Mountains and the rugged shores and crystal-clear waters of Georgian Bay, the picturesque Blue Mountain Village is Southern Ontario's premiere four-season destination. A cobblestoned pedestrian village framed by turn-of-the-century Ontario architecture, the Village offers a wide variety of family accommodations, activities and attractions including over 40 unique shops and restaurants, zip lines, ropes courses, hiking, biking, Segue tours and much more. An incredible natural retreat, the Village offers as much – or as little – as you'd like to do.