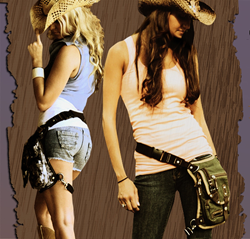 I am very excited about attending the Licensing Expo. It will be great opportunity for my product recognized by the industry!
Charlotte, NC (PRWEB) June 11, 2014
On June 17-19th over 400 exhibitors will gather in Las Vegas, NV for the Licensing International Expo. For over 30 years this expo has connected the world's most influential entertainment, character, fashion, art and corporate brand owners with consumer goods manufacturers, licensees and retailers. The expo serves as a meeting place to spot new trends, build strategic partnerships and secure promotional tie-ins, as many are able to find partners and deals that change their company forever. Last year, over 5,000 brands were represented with more than 15,000 key decision making retailers, manufacturers, marketing and advertising professionals across all consumer product categories.
U Koala Bag, the hands-free leg holster bag inspired by the Koala Bear, is pleased to announce their participation as an exhibitor at this event. The company will be showcasing multiple bags for licensing including bags for hairstylists, motorcyclist, college sports team branding, pets and more.
"I am very excited about attending the Licensing Expo. It will be great opportunity for my product recognized by the industry!" Says Yan Ma, Designer of U Koala Bag.
Since its debut in 2013, U Koala Bag has enjoyed success all over the globe. Originally only available online, U koala bag is now available from more than twenty-five stores all around the world, including the Boutique of Leathers in Canada, La De Da, Inc., Roberta Weissburg Leather, Paris Isabella Clothing, and L&D Iron horse Leather.
U koala Bag and its designer, Yan Ma, have also attended numerous trade shows in the fashion industry, including ASD Las Vegas, the world's largest consumer-goods trade show, and the Atlanta Apparel trade show, where U koala Bag received the Emerging Designer Buyer's Choice Award.
Yan Ma designed the U koala Bag to be hands free, making it just as ideal for strenuous activities like hiking or riding a motorcycle as it is for taking a leisurely stroll through the park. The U koala Bag is a true merging of the best of fashion, craftsmanship and utility. Yan Ma's special ability to uniquely combine aesthetics and functionality renders attractive handbags for her collection that are also useful. They are excited to take part in the Licensing Expo this year and have more people find out about their product.
For more information on U koala Bag please visit their website at http://www.ukoalabag.com/.
ABOUT U KOALA BAG:
The U Koala Bag (http://www.ukoalabag.com) is designed and named after the koala bear, which contours to the thigh like a koala bear hugs a tree. It has two straps, one around the waist or shoulder while the other is strapped securely to the thigh. The design offers functional pockets for personal items and curved edges for weight distribution providing maximum comfort and security. The hands-free experience is ideal for everyday activities such as hiking, biking, dog walking, hairstyling, traveling and more.