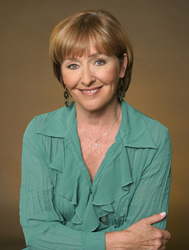 (PRWEB) June 11, 2014
On Thursday July 24, 2014, the FSH Society will hold a very special benefit concert at Yoshi's Jazz Club in San Francisco with opera's legendary singer, Frederica von Stade, who will perform an intimate and personal suite of songs with the acclaimed pianist Steven Blier. Net proceeds for "Songs in the Key of Steven Blier," will go to support the work of the FSH Society, raising critical funds for scientific research on facioscapulohumeral muscular dystrophy (FSHD).
Blier, who is known to Bay Area music lovers through his long association with the San Francisco Opera's Merola Program, is himself profoundly affected by FSHD. The muscle-wasting disease, while it has confined him to a motorized wheelchair, has spared his ability to play the piano masterfully. "I don't think there's anyone who sings or plays an instrument or loves music that doesn't adore Steve Blier," says von Stade. "This is a business where there is great and startling talent but he stands taller than anyone."
When Blier invited von Stade to perform in this concert, she agreed without missing a beat. "We're so grateful to everyone who comes to support Steven," she said. "He triumphs over his illness every day of his life to the point that one forgets the challenges he faces and has faced for so many years. He is a walking miracle of talent and courage."
The evening will begin with a wine reception and silent auction, followed by a light dinner of Yoshi's Michelin-rated Japanese cuisine, live auction, musical performance and dessert. The funds raised will be used to support the work of some of the world's foremost researchers.
The FSH Society, rated by Charity Navigator as one of America's "Ten Charities worth Watching," has spearheaded key breakthroughs in FSHD, the most common form of muscular dystrophy, which affects more than 500,000 people worldwide. These patients and their families are counting on us to lead the way to treatments and a cure. To purchase tickets, please visit: https://www.fshsociety.org/pages/conEStevenBlier.html.
What:
FSH Society's First Benefit Concert in San Francisco "Songs in the Key of Steven Blier" with opera singer Frederica von Stade and pianist Steven Blier
Where:
Yoshi's Jazz Club in San Francisco
1330 Fillmore Street, San Francisco
When:
Thursday, July 24th 2014
6:00pm Reception, Auction and Silent Auction, Dinner
8:00pm Concert
Tickets and More Information:
Tickets are $50, $125 and $250 (VIP).
For reservations and tickets visit https://www.fshsociety.org/pages/conEStevenBlier.html or call 781-301- 6651.
What is FSHD?
Affecting more than 500,000 people worldwide, facioscapulohumeral muscular dystrophy (FSHD) is one of the most common muscle dystrophies. The genetic disorder presents a lifelong progressive loss of all skeletal muscles, typically attacking the muscles of the face (facio), shoulder blades (scapula) and arms (humerus), though it can progress to affect all skeletal muscles. The disease's age of onset ranges from infancy to adulthood, with symptoms ranging from mildly to severely disabling and life-shortening. Approximately one-quarter to one-third of patients end up in wheelchairs. FSHD affects both sexes and all races and ethnicities equally. Currently there is no treatment.
About the FSH Society
The FSH Society, founded in 1991 by two FSHD patients, is a world leader in combating muscular dystrophy. The non-profit has provided millions of dollars in seed grants to pioneering research worldwide, creating an international collaborative network of patients and researchers. The FSH Society serves as a source of information and support for all patients and families with FSHD; acts as a driving force in the development of research directed towards treatments and ultimately a cure; and brings support to patients and research for FSHD through effective engagement of governmental and private sector organizations and entities.
Research launched by the FSH Society led to the discovery in 2010 of the genetic mechanism responsible for 95 percent of cases. A second genetic mutation was identified in 2012, and in 2013, the two genetic factors were found to interact. The disease mechanism involves epigenetic regulation of so-called "junk DNA", and FSHD research is revolutionizing the scientific understanding of gene regulation, with profound implications for human health and disease.
Building on these landmark discoveries, the FSH Society is leading an international advocacy and research effort by supporting biospecimen repositories, patient registries, biomarker and clinical endpoint consortiums and a clinical trial network. These efforts are beginning to attract the attention of biotechnology and pharmaceutical companies.
For six consecutive years, the Society has received the Charity Navigator's four-star rating, the highest distinction held by less than three percent of non-profit organizations in the country. The FSH Society offers a community of support, news and information for FSHD patients and families through its website at http://www.fshsociety.org.