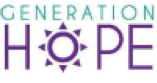 The support of other teen parents around me helped motivate me to do better and succeed in school.
Washington (PRWEB) June 11, 2014
On Friday, June 20, Generation Hope will host its annual fundraiser "Pep Rally Under The Stars" to raise money to support teen parents in the Washington, D.C. area as they pursue a college degree.
In 2010, former teen mom Nicole Lynn Lewis founded Generation Hope—a nonprofit that provides financial and mentoring support for teen parents or "Scholars" who are pursuing higher education degrees. Scholars are matched with a mentor to ensure college completion, which helps break the cycle of poverty for young families in the area. One hundred percent of the 2013 Scholars are the first in their family to attend or graduate college.
Generation Hope will host its third annual gala to celebrate the achievements of Scholars, present the Scholar of the Year award, and welcome a new class. The organization will also be presenting an award to Kaiser Permanente for their continued support of the Scholar Program. Generation Hope's most recent graduate, Ericka Harley, will share her story at the gala.
Ericka Harley graduated from Trinity Washington University with a bachelor's degree in business administration this May. She also served as senior class president. Once unsure about whether she wanted to attend college, Harley changed her mind after giving birth to her daughter at 17. "Once I had her, I decided to go [to school] so I could prove to her that if I could graduate, she could too," said Harley. She credits Generation Hope with keeping her focused on her goal. "This is the first time ever that I felt like people really believed in me."
Marikit Williams will also be celebrated at the gala. Marikit graduated from The University of Maryland, College Park in December 2013 with a bachelor's degree in family science. Her GPA plummeted when she learned she was pregnant at age 17. "The support of other teen parents around me helped motivate me to do better and succeed in school," Williams says. She is now a teacher at a fine arts school and plans to start graduate school.
Event Details
When: Friday, June 20, 2014 at 7:00 p.m.
Where: Samuel Riggs IV Alumni Center, University of Maryland, College Park, Md.
Special Guests:
•Sarah Jakes, keynote speaker: Author and media personality; former teen mother; daughter of bestselling author, film producer, and mega church pastor Bishop T.D. Jakes. (Available for interviews).
•Alison Starling, emcee: Emmy Award winning news anchor of ABC7/WJLA-TV
•Jeffrey Slavin, honorary chairman: Mayor, Somerset, Md.
Schedule:
7:00 p.m.: Cocktail hour, silent auction
8:00 p.m. – 9:45 p.m.: Dinner, keynote speaker, Scholar remarks, awards
9:45 p.m.: Sarah Jakes book signing
For More Information: Visit http://supportgenerationhope.org/gala/.
For Media Requests and Interviews: Members of the media are invited to attend. Registration is required. Contact Tiffany Cohen at 202-499-4411 or tcohen(at)reingold(dot)com.
To date, Generation Hope has supported 26 Scholars, provided $55,000 in college tuition assistance and presented college-readiness workshops to more than 275 high school students who are pregnant or parenting.
About Generation Hope: Founded in 2010 by former teen parent Nicole Lynn Lewis, Generation Hope is a D.C. based nonprofit that supports teen parents in their pursuit of a college education. Generation Hope is designed to give young parents and their children a support system as they pursue academic excellence, provide a direct-support experience for sponsoring organizations and individuals, and create a new generation of ambitious and successful families. Follow Generation Hope on Facebook, Twitter and YouTube.
About Nicole Lynn Lewis, founder: Nicole Lynn Lewis is a former teen mother who graduated from the College of William & Mary while raising her infant daughter. She holds a master's degree in social policy and communication. She is the author of two books and a spokesperson/consultant about teen pregnancy, teen parenting, and college completion among marginalized youth. Follow Lewis on Facebook, Instagram and Twitter.