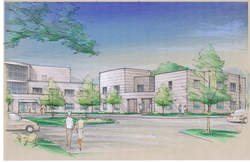 "We're preparing our guest for a successful, confident return home after hospitalization for illness, injury or surgery"
Akron, Ohio (PRWEB) June 12, 2014
Rockynol Retirement Community will break ground on a major expansion of its Rehabilitation and Health Care Center at 1P.M. on June 17. The expansion with a project cost of $4.9 million includes the addition of private, Medicare-certified rooms; advanced therapy resources; rehabilitation and disease management programs; and comprehensive kitchen enhancements that will include cook-to-order meal services and full-service, restaurant style dining.
Upon completion in fall, 2015, The Rehabilitation and Health Care Center at Rockynol will accommodate 81 short and long term guests in spacious private suites and semi-private rooms.
The comfortable, common areas will invite guests out of their rooms, allowing them to heal, relax and meet new people. Chef-prepared, cooked-to-order meals will be enjoyed in an appealing restaurant setting, if the guest chooses, of course.
"Our guests are in charge," says Rockynol Administrator Dean Palombaro. "We're their partner in wellness, and their stay will fit their lifestyles."
The center's dynamic therapy gym will include advanced equipment such as an occupational therapy bathroom and kitchen areas where guests practice day-to-day tasks.
"Our expertly trained, attentive therapists and staff really are the heart of the addition. Guests will work with certified therapists on speech, mobility and other daily tasks," Palombaro continued.
Nurses and therapists will evaluate each guest and create an individualized rehabilitation plan for the most comfortable, effective recovery possible.
"We're preparing our guest for a successful, confident return home after hospitalization for illness, injury or surgery," Palombaro said. "Our guests just want things back to normal. Our team and our advanced therapies will get them there."
Rockynol is located at 1150 West Market Street, Akron, Ohio, 44313. Call 330.867.2150 or click here for more details.
"Rockynol is uniquely positioned to provide our rehabilitation guests and residents all of the resources they need on a single campus," says Rockynol Executive Director Kara Hanzie. "This expansion helps us provide an even higher level of quality service to loved ones and their families."
Rockynol is one of 11 retirement communities owned and operated by OPRS Communities, a wholly owned subsidiary of Ohio Presbyterian Retirement Services (OPRS), headquartered in Columbus. Since 1922, OPRS has defined the highest standards of quality of life for older adults. Each year, OPRS serves more than 73,000 people annually through its wholly owned subsidiaries OPRS Communities and Senior Independence.