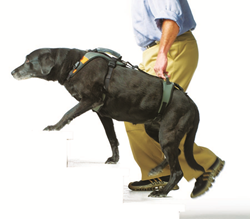 Spending a little more today on products that will keep them comfortable and healthy can save owners more tomorrow from unnecessary injury and poor diet
Denver, CO (PRWEB) June 10, 2014
It's hard to see our four-legged family members get old. Maybe Fido was just a young punk when the kids were born and now, just when those kids might be old enough to walk him, he prefers more to hang close by. It's not just our aging pets' activity levels that change as they age. Owners must be more vigilant about everything from their diet, teeth and overall health.
"Making a few adjustments to enhance a healthier lifestyle for an aging dog can make a marked difference in that pet's longevity," said Cary Zimmerman, President of Blue Dog Designs, maker of the Help 'Em Up Harness, a lifting mobility device for aging or injured dogs. "Spending a little more today on products that will keep them comfortable and healthy can save owners more tomorrow from unnecessary injury and poor diet," he concluded.
Here are a few tips to keep your old dogs, happy, healthy and active into their sunset years.

Activity. Diet. Doctor. Just like the rest of us, it's important to stay consistent on basic overall health for an aging dog. It becomes even more important to get them exercise, good nutrition, and keep up on biannual veterinary checkups (especially with dogs age seven or older).
Make it fun. Just because they're old doesn't mean they're not young at heart. Older dogs deserve a little extra TLC at this time in their lives, so shower them with toys they love, cozy up their low-to-the-ground dog bed with extra padding and snuggle them up every day.
It's not a diet; it's a game. If your aging pooch has put on a few pounds, get creative around snacking. Keep them working longer by using food puzzles or other toys to get to the treats. It makes the experience last longer, can help for weight loss, and dogs of all ages love the game of find the snack!
Spend a little extra to accommodate new health or mobility issues. Consider purchasing a dog bed with tempurpedic cushion made especially to help arthritic dogs. Even just placing a blanket or extra soft cushion on the dog's bed to help it be more comfortable if it has arthritis. Pet stairs and ramps make it easier to get onto high surface areas such as beds, or into cars, and carpeting will help with comfort. If you have hard-surface floors, dog booties like Pawz or ToeGrips will help add traction and reduce the risk of slip-and-fall injury. Gear like the Help 'Em Up Harness can help improve mobility or stability as an aid in assisting older dogs get around overcome everyday obstacles that come with aging. Owners can use the harness lifting handles on the hips and over the shoulders to help them off the floor, up and down stairs and in and out of cars, and the new shoulder strap helps even older people lift their aging dogs.
"The Change." It's not just for women! Older dogs can overheat easily, as they are less able to regulate their body temperatures. Be sure to keep them out of hot cars during the summer. Temperatures in cars can run twenty degrees hotter than outside, even with windows cracked. At home, consider an elevated dog bed with breathable material or other cooling beds with pet shades for outside in summer. Cooling vests are another way to help manage a dog's body temperature.
Avoid collisions. That potted plant near the dog bowl might need to move. Many aging dogs have failing eyesight. Remove obstacles from unnecessary interference and help reduce anxiety in the process.
Brush, brush, brush. That old saying "if you ignore your teeth, they'll go away," rings true for dogs too. With regular tooth brushing your pet will continue to be able to chew different types of food and minimize gum disease and upset stomachs. And let's not forget their fur. Weekly brushing makes for a healthy coat, helps promote good circulation and aides in keeping long-haired dogs cool.