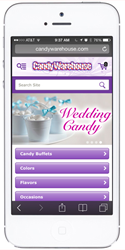 "The mobile site ushers in an era of unprecedented connection between our site and our customers," said Dr. Evans Boney, Marketing Analyst for CandyWarehouse.
Los Angeles, CA (PRWEB) June 11, 2014
CandyWarehouse.com, the premier source of fresh candy on the Internet, is proud to announce a new website for mobile browsers. Mobile devices are now forwarded automatically to a website designed especially for them: m.CandyWarehouse.com. The site was crafted to be more easily browsed on the specific screen sizes of many smart-phones, leading to an immersive user experience. Go to http://www.CandyWarehouse.com now on a phone to try it.
"The mobile site ushers in an era of unprecedented connection between our site and our customers," said Dr. Evans Boney, PhD Caltech in Theoretical Chemical Physics, Marketing Analyst for CandyWarehouse. "It gives our customers the power of the full site in the palm of their hands." The mobile website was launched with the help of Branding Brand, a company which has provided mobile optimized websites to more Top 500 internet retailers than any other.
"We are proud to work with retailers who constantly strive to improve customer experience," said Chris Mason, Branding Brand co-founder and CEO. "As mobile traffic continues to skyrocket, so will consumer demand for usable, relevant shopping experiences."
As seen in the screenshot, the new site leads to a smooth user experience on mobile devices, including full buffet-builder capability (click here if reading on mobile). Candy shoppers can easily find candy by color, flavor, brand and occasion, or hop over to social media to keep up with the Candy Conversation.
All of the payment options available on desktop are still available; checkout with Credit Card, Paypal, or Check, or pay in-store at our El Segundo Warehouse with cash. And, as always, shipping starts as soon as the order is placed! Don't have a fancy phone but still want candy? Don't worry, they have a phone number, too: 310-343-4099.
Regardless of the party or special event, just know: if you've got a smart-phone, CandyWarehouse.com can make it sweeter, fast.
Have a tablet and think CandyWarehouse.com should also have a site for tablets? The next thing in development at CandyWarehouse.com is a tablet specific site, which is currently undergoing its final phase of testing.
"Most companies use their mobile site for lesser functionality, maybe focusing on a store-finder element, but our platform aims to connect customers with the full-site experience." Boney continued, "We don't want people on their phones to be able to just browse limited product pages, we want them to be able to do whatever they could do on the desktop site. Social Media integration with Facebook will allow cross-platform log-in by fall 2014."
As Dr. Boney summarized, "No matter what device you use to come to CandyWarehouse.com, we are working all day, every day, to make the shopping experience as convenient as possible."