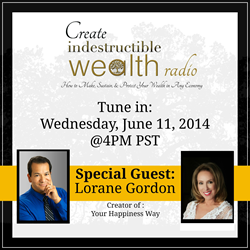 Happiness first...the rest will follow.
Rancho Cucamonga, CA (PRWEB) June 10, 2014
Logos Lifetime Enterprises announces their special guest to appear on Create Indestructible Wealth Radio on Wednesday, June 10th 2014. Paul Mata, CEO of Logos Lifetime Enterprises, reveals that Lorane Gordon of Your Happiness Way will be the guest speaker on Create Indestructible Wealth Radio. Inspirationalist Lorane Gordon is a major manifester herself and an expert in the fields of Law of Attraction and Present Moment Awareness. She brings dynamic, loving and inspirational teachings to the world. After spending a 10-year period of perfecting her message, she has finally burst back on to the scene stronger than ever. Lorane gives you the tools you need to manifest the life of your dreams and to live in joy in the only moment there is, the present moment. She lives by her mantra, "Happiness first…the rest will follow" and wants others to be able to do the same.
Discover how to live your life with happiness, health, love, inner peace and wealth. Paul Mata, expressed great excitement when announcing the news. "Lorane Gordon is a breath of fresh air and the perfect addition to our radio show for this week." Lorane's intent is to bring happiness into as many lives as possible, which is the driving force behind her new set of programs, "Happiness First…the rest will follow". Listeners will start to feel the holistic view of Paul Mata's system: It is not all about financial planning -- Your mind and spirit must be in harmony in order to Create Indestructible Wealth.
Tune in this Wednesday, June 10th 2014 to find out. Create Indestructible Wealth Radio airs on Rockstar Worldwide on the Doublewide Network. To listen to past recordings, visit the website here.
About Logos Lifetime Enterprises
Logos Lifetime Enterprises mission is to help people lead an abundant and prosperous life with a passion to serve others. They help people of all ages and backgrounds lead better lives by helping them make, sustain, and protect their wealth in any economy.
Logos Lifetime University was founded and developed by Paul Mata, who has over 20 years of experience working at a Wall Street Firm as a stockbroker and managing principal. After creating more than nine successful companies, Mata decided to establish Logos Lifetime Enterprises in 2012 to teach people everything he learned about creating wealth. Author of the book Create Indestructible Wealth: How to Make, Sustain, and Protect Your Wealth in Any Economy, Mata is the leading expert on creating holistic wealth. Today, Mata focuses on helping people create indestructible wealth through his proprietary 12-step wealth creation system that incorporates growing people's financial assets, as well as their mental and physical assets so they can develop a wealth that can never be destroyed.
For more information visit http://www.CreateIndestructibleWealth.com, like CIW on Facebook and Follow CIW on Twitter.