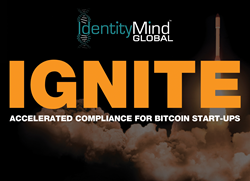 Palo Alto, CA. (PRWEB) June 12, 2014
IdentityMind Global™ unveiled the IGNITE™ program for Bitcoin Start-ups at the InsideBitcoins™ conference in New York City earlier this year. The program helps Bitcoin Start-ups jumpstart their compliance program by providing low-cost access to the most comprehensive KYC and transaction monitoring solution available for Anti-Money Laundering. Regulatory issues have remained a central obstacle for Bitcoin businesses. The IGNITE™ program allows startups to demonstrate their awareness and preparation for any incoming regulation proposed by governing bodies, and begin building the banking relationships they need to accelerate launch.
To further streamline the enrollment process, IdentityMind Global has launched today an online store where companies can sign up for the program and pay using bitcoin. Companies can enroll at http://www.identitymindglobal.com/ignite.
"Young companies have found the IGNITE Program to be an effective and a cost-efficient solution for developing their compliance program," said Garrett Gafke, IdentityMind Global CEO and President. "To date we have integrated over half a dozen companies, and we have another dozen in the staging phase. We have exchanges, wallet hosting, bitcoin processing, crowdfunding, and prepaid cards among them. Some are operating internationally, and a few are on the bleeding edge in terms of business models. IGNITE is filling their needs at a reasonable price".
The IdentityMind Global platform combines the company's unique core technology, Electronic DNA (eDNA™) with an integrated system of third-party data and technology providers. This creates a single integration point with access to all services and workflows needed to execute comprehensive Know Your Customer (KYC).
"The IdentityMind platform provided a beautiful solution by creating a united source within the system where we can pull up all information a customer has given us. This greatly improved our KYC process," said Mazin Khoury, IGNITE Customer and CEO of Bitcoin Exchange CoinRnr.
The platform combines these sophisticated KYC services with integrated transaction monitoring to provide international businesses with a complete AML solution. As regulation varies by country, the system can recognize a consumer's location and provide the required KYC services accordingly.
"We wanted to implement a KYC and AML monitoring program that could run latently until we need to report to international regulators. The IdentityMind Platform provided us with a great third party solution, offering a portfolio of international services, and automating much of the KYC process for us." Said IGNITE customer Oliver Gale, Compliance Officer and co-founder of Bi.tt International Exchange.
The IdentityMind Global Ignite web store is available for Bitcoin Startups worldwide at http://www.identitymindglobal.com/ignite.
About CoinRnr
CoinRnr was created to bridge the gap between fiat and crypto coins, while reducing unnecessary delays and waiting periods. The exchange now helps people all over the United States and Canada buy and sell bitcoin without long wait times or excessive fees. Orders are processed the same day of purchase, often within minutes of payment confirmation.
About Bi.tt
Bi.tt is the first cryptocurrency forex and commodity-trading platform serving the Caribbean region. With a cutting-edge software platform and a small team of finance, IT security experts, and programmers, Bi.tt is the regional choice for buying and selling cryptocurrencies and digital commodities.
About IdentityMind Global™:
IdentityMind Global™ is an e-commerce company offering an on-demand platform providing payments, risk management, anti-fraud and anti-money laundering services for online merchants, acquiring banks, payment processors and gateways, payment service providers (PSP/ISO/MSP,IPSP), digital currency exchanges, and financial institutions (banks, money service businesses (MSBs), money transmitters).
© 2014 IdentityMind Global. All rights reserved. IdentityMind, IdentityMind Platform, IdentityMind eDNA, IDMPay and the IdentityMind logo are trademarks or registered trademarks of IdentityMind Global, Inc. in the United States and other countries. All other brand, service or product names are trademarks or registered trademarks of their respective companies or owners.
IdentityMind Global™ is privately held. For more information please refer to our website http://www.identitymindglobal.com, or reach us at info(at)identitymind(dot)com.
Media Contact:
pr(at)identitymind(dot)com
Office: 650-618-9977